"So, I'll just leave it at that."
Guardians of the Galaxy Vol 3 star Chukwudi Iwuji has revealed that James Gunn's threequel has an alternate ending.
Guardians of the Galaxy 3 spoilers follow.
Iwuji plays the third instalment's main villain, the High Evolutionary, who seemingly dies towards the end of the film. However, the actor has reminded fans that we never actually see the High Evolutionary's body.
"Well, let me just put it this way. I'm hoping you'll see an extended version or maybe an alternate ending, you know, that we certainly did film," he told Comicbook.com.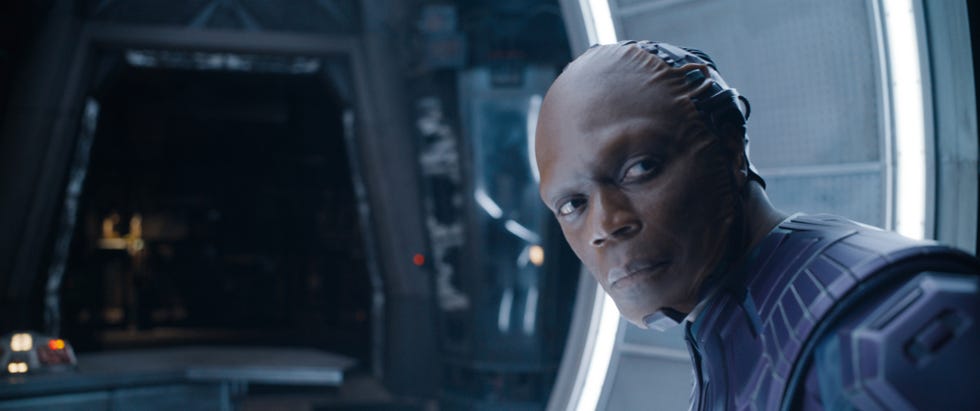 Marvel Studios
Related: Guardians of the Galaxy 3's Will Poulter explains Adam Warlock's big moment
Iwuji continued: "I mean the whole point in Marvel is that unless you see someone die they haven't necessarily died and even if they do die, what does that mean in the multiverse, right? But, the point is that Rocket doesn't shoot me.
"They make a point of saying, 'why don't you kill him', and he says, 'no, I'm not going to kill him'. And you don't actually see me go down with the ship. So, I'll just leave it at that."
Vol 3 isn't the first time Iwuji has collaborated with Gunn, as he previously played Clemson Murn in the director's HBO Max series Peacemaker.
"I know James," he explained ahead of the film's release. "We developed a sort of vocabulary together.
"I know that he likes to see what I bring, we see if it matches with what he has, and if it matches, he always goes, 'OK, now do whatever you want'…
"Many scenes in doing Peacemaker with him started one way and ended in a completely different way because he was open to saying, 'We've got it, what else can we do with it?'."
Guardians of the Galaxy Vol 3 is out now in cinemas. Guardians of the Galaxy Vol 1 and Vol 2 and The Guardians of the Galaxy Holiday Special are streaming on Disney+.
---
Our humans need coffee too! Your support is highly appreciated, thank you!