When Marvel Studios' Guardians of the Galaxy Vol. 3 blasts into theaters today, it will be the last time audiences see the heroes as they know them, as it's the final film in director/writer James Gunn's trilogy (plus The Guardians of the Galaxy Holiday Special, streaming now on Disney+). "This has been over 10 years in the making and these films are so uniquely James Gunn—his voice, his writing, his directing, his love for animals, his comedy, his drama, his specific tone," says Chris Pratt, who plays Peter Quill aka Star-Lord. "I'm so grateful that he has been our maestro for all three films."
Critics are calling Guardians of the Galaxy Vol. 3 "an absolute must-see" (Screen Rant), "a gorgeous spectacle" (The Verge), and "one of Marvel's best films ever" (Gizmodo). Reflecting on the journey that brought him—and, by extension, the characters—to the trilogy's epic culmination, Gunn says, "There were a lot of things that I guessed, and there were a lot of things I didn't know, but I knew that the core of the story, for me, was Rocket and his story: where he came from, and who he was. It was very important for me to tell that story."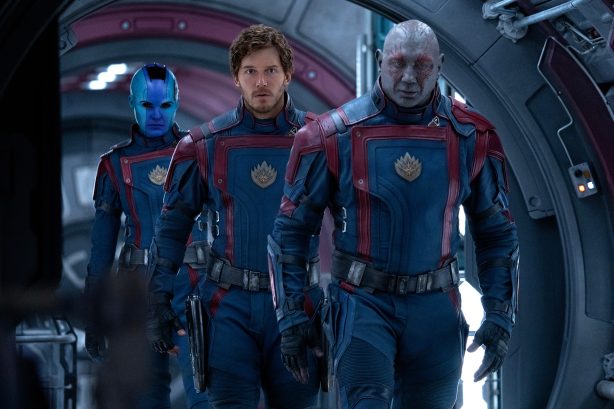 Indeed, it's Rocket's story that drives the narrative in Guardians of the Galaxy Vol. 3. When the film opens, the beloved band of misfits are settling into life on Knowhere. Unfortunately, their lives are soon upended by the echoes of Rocket's turbulent past, courtesy of a mad scientist, The High Evolutionary, played by Chukwudi Iwuji. After years of experimenting on helpless creatures, The High Evolutionary is determined to take back what he feels is rightly his: Rocket, one of his many "creations." In turn, the Guardians rally to protect Rocket's life at all costs. Their mission, if not completed successfully, could quite possibly lead to the end of the Guardians as we know them.
With Guardians of the Galaxy Vol. 3, Gunn felt supported by the Marvel Studios team to take bigger risks in the way the movie was filmed, which he says is "rawer" emotionally than its predecessors. "The central character, in a way, is Rocket, and Rocket's the one I feel close to. The first film is the story of the mother, the second film is the story of the father, and this film is the story of the self," Gunn explains, "so it's innately more intimate because of that."
Zoe Saldaña, who plays Gamora, credits the filmmaker with threading the needle between action and emotion—something he's done seamlessly in the first two films and a holiday special. "What makes James a special storyteller is that he finds genuine, universal, common emotions and conflicts, and he utilizes them and sets them on a universe-type of tapestry. We're all still able to relate to it because we all feel sort of like underdogs sometimes. We all hurt when we are neglected, rejected, or treated unfairly," Saldaña says. "But we all are capable of feeling a great level of compassion for each other, so he creates this beautiful story with all of these universal feelings."
Gunn adds, "When you go back to the first movie, you see that tonal shifts have been a part of this franchise from the very beginning. It was really important to me that the films were fluid tonally. The humor is incredibly important, but I also didn't want to undercut any emotion with a joke. So, it was important for me to allow the humor and the characters to be funny, because they are funny characters and get into funny situations, but also to allow the emotion to really play out and not be ashamed of that emotion."
In turn, stars such as Dave Bautista as Drax, Karen Gillan as Nebula, Pom Klementieff as Mantis, Vin Diesel as Groot, Bradley Cooper as Rocket, Sean Gunn as Kraglin, Will Poulter as Adam Warlock, and Maria Bakalova as Cosmo are also feeling emotional. "It's really special to be reunited with the Guardians family for Vol. 3," Pratt says. "It's rare to have a rapport like we have, and for as many years as we've put in the trenches together, we're still very much a family. What makes it different this time around is we know it's coming to an end, so I think each of us is processing that in their own way…"
While Gunn says he "just wanted to make the coolest movie that I could possibly make," Pratt argues Gunn's done that—and more. "It's wild, it's extraordinary, it pushes the boundaries, it's fun and funny. It focuses on uniqueness and heart and compassion, and imagination, music, humor, vibrant colors, beautiful imagery, and ingenious alternate universes. It's the final installment of the Guardians of the Galaxy [trilogy] and wraps it up in a way that really only James could."
---
For enquiries, product placements, sponsorships, and collaborations, connect with us at

[email protected]

. We'd love to hear from you!
---
Our humans need coffee too! Your support is highly appreciated, thank you!