Netflix fans have gone wild after the live-action adaptation of the popular Japanese manga series, One Piece, finally dropped on the streaming service on Thursday.
Originally announced in January 2020, the long-awaited series is finally ready to bring the anime phenomena into the live-action world.
Developed by showrunners Matt Owens and Steven Maeda (Helix, Pan Am), the series is based on the ongoing manga by Eiichiro Oda, which was adapted into a popular anime from 1999.
The Netflix series stars Iñaki Godoy as the lead character Monkey D. Luffy, who embarks on a quest to find the legendary treasure.
Before he does that though, he must first assemble his pirate crew, who include Mackenyu as Roronoa Zoro, Emily Rudd as Nami, Jacob Romero as Usopp and Taz Skylar as Sanji.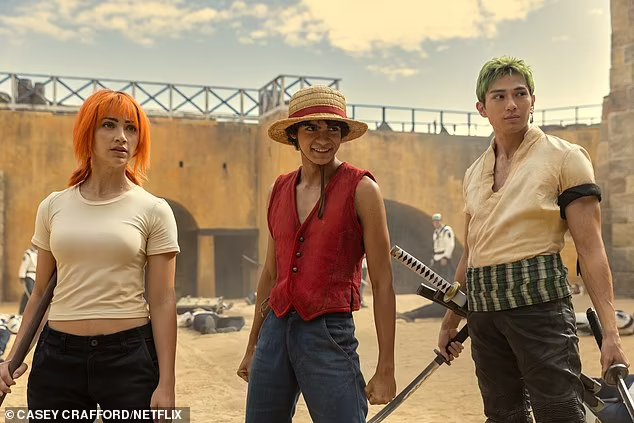 The show looks to be a big success, after One Piece manga sold over 500 million copies to date and continues to be a phenomenon both inside and outside of Japan.
And taking to social media to share their thoughts, fans couldn't hide their excitement.
One wrote: 'Eight hours of One Piece… what a perfect day!'
'YESSSSSIR!!! IMA WATCH IT LATER TODAY!!!! SOOOOO EXCITEDDDDD!!!', another penned.
A third agreed: 'Absolute masterpiece. Episode one was amazing'.
Prior to it's release on Thursday morning, one fan couldn't help but wait for its exact release. They said: 'Who else is obsessively refreshing Netflix rn?'
A fifth said: 'This is just epic, wholesome moment' while a sixth added: 'The first episode was epic!!'
'Let's goooo', another added.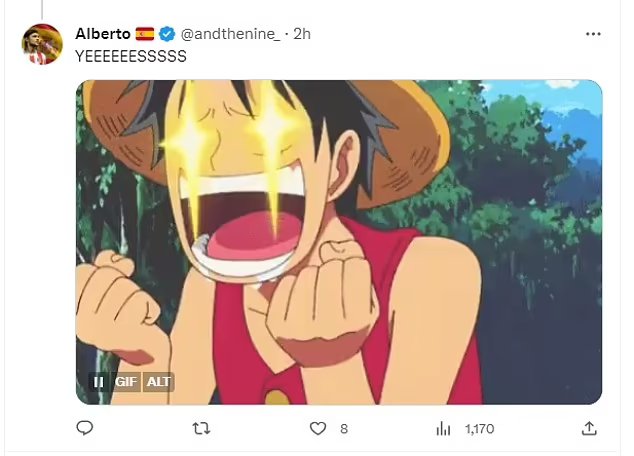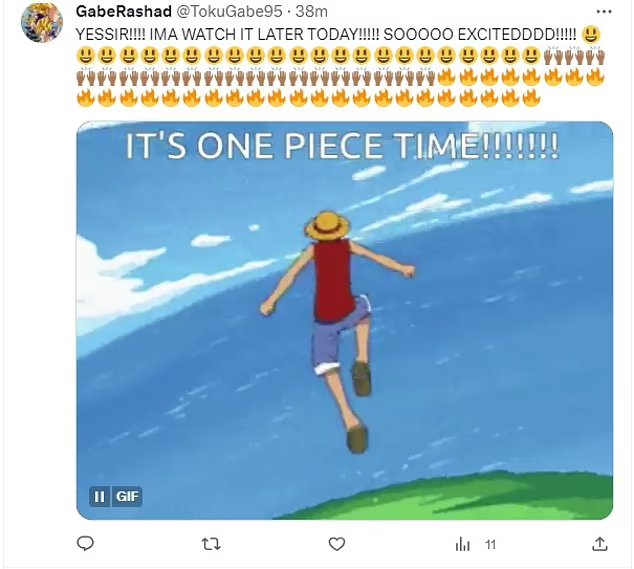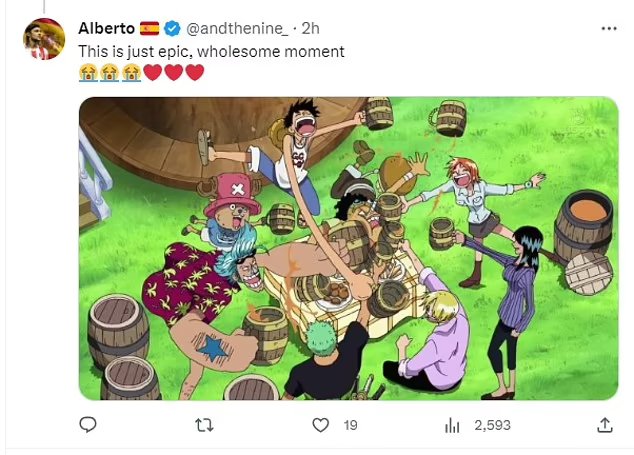 A synopsis of the 8-episode series reads: 'Monkey D. Luffy is a young adventurer who has longed for a life of freedom since he can remember.
'Luffy sets off from his small village on a perilous journey to find the legendary fabled treasure, One Piece, to become King of the Pirates!
'But in order to find the ultimate prize, Luffy will need to assemble the crew he's always wanted before finding a ship to sail, searching every inch of the vast blue seas, outpacing the Marines, and outwitting dangerous rivals at every turn.'
One Piece creator Eiichiro Oda, who served as an executive producer on the Netflix adaptation, previously stated there were 'no compromises' in the live-action show.
'After the launch, I'm sure I'll hear about some people pointing out how this character is missing or that scene is omitted, or this bit is different from the manga.
'But I'm sure they'll come from a place of love, so I intend to enjoy even those comments!' Oda wrote in an open letter.
He added: 'Even after the shoot was over, there were numerous scenes the production agreed to re-shoot because I felt they weren't good enough to put out into the world.
'On the other hand, there were also some lines that I thought didn't feel like Luffy on paper… but when I saw the filmed scenes, I went, "It works when it's Iñaki performing it as Luffy, as a matter of fact, it works great!!'"
'There were so many things that had to be done to keep things from looking too unnatural in live action.'
The graphic novels by Eiichiro Oda have sold more than 516 million copies across 103 volumes in 61 countries.
By: SUMMER GOODKIND
Originally published at Daily Mail
---
For enquiries, product placements, sponsorships, and collaborations, connect with us at

[email protected]

. We'd love to hear from you!
---
Our humans need coffee too! Your support is highly appreciated, thank you!