From her modest beginnings as a teenage country singer to becoming a global pop sensation, Taylor Swift has captured the hearts of millions with her lyrical genius and soul-stirring melodies. Her music has become a soundtrack to her fans' lives, and rightfully so, as many have grown up alongside the star. While we often find ourselves immersed in the magic of her songs, there's another aspect of Taylor Swift's artistry that often goes unnoticed: her evolving and fearless sense of style.
Since her breakthrough in the mid-aughts, Swift's fashion journey has been nothing short of a metamorphosis. The singer has proved time and again that she is not one to be confined to a single aesthetic. Instead, she has embraced change and growth, and with each new album, presented us with a fresh and exciting new era. This was also always reflected by her style, which effortlessly captured the essence of her music in a kaleidoscope of fashion brilliance.
From boho curls to rainbow-inspired ensembles, the singer has shown us that committing to a single look is not required for those who dare to embrace their true selves. And to this day, she continues to keep us on our toes, leaving us in suspense about what her next look might entail — will it be a sultry and bold ensemble, or perhaps something whimsical and pastel-infused? The anticipation is part of the enchanting appeal surrounding Taylor Swift's journey in the spotlight.
The Taylor Swift era: The singer gives us boho and curls (2006-2007)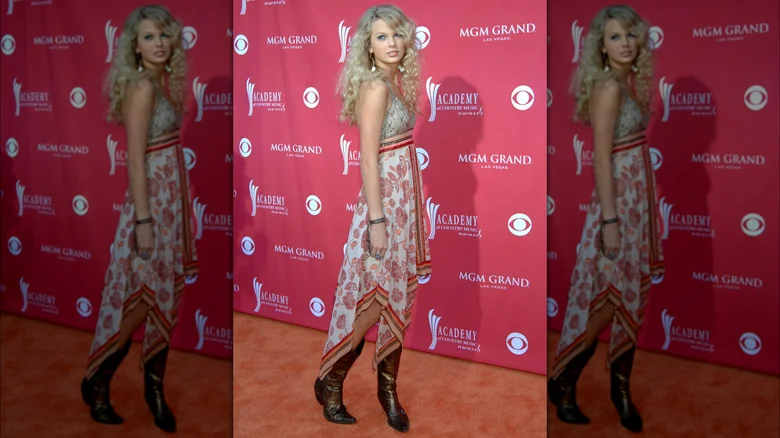 Taylor Swift's beginnings in the industry gave us plenty of boho chic vibes, bouncy curls, and a dash of country charm. Back in 2006, when Swift was just 16 years old, she graced us with her debut "Taylor Swift" album, and at the time, her fashion choices were all about embracing that sweet country girl image. Cute summer dresses, classic cowgirl boots, and fun statement earrings were her go-to choices, creating a perfect harmony between that whimsy and rustic flair.
Of course, this first era was also a journey of self-discovery for Swift. Having just started her career, the singer fearlessly experimented with different looks, exploring what truly suited her best. Some days she'd rock a glamorous head-to-toe black look and other times, we'd see her in a fairycore teal gown. However, one part of her styling that most of us immediately think of when someone mentions young T-Swift is her signature tight curls! Those golden ringlets became synonymous with the early Swift era; some might even call them a trademark of her youthful innocence and star quality.
The Fearless era: Taylor Swift and her sparkly minidress (2008-2009)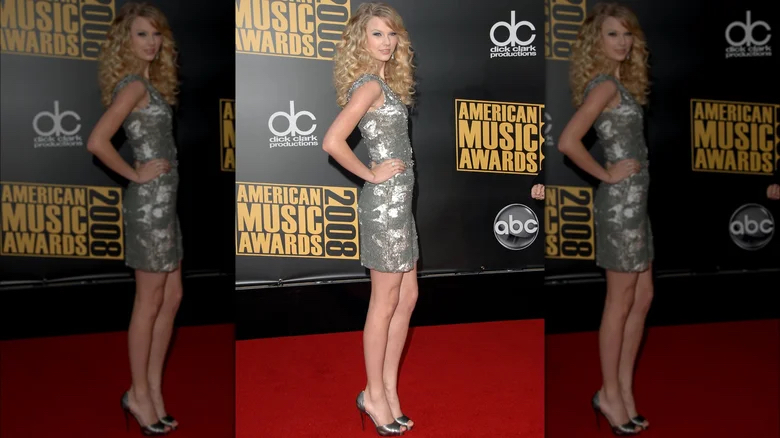 The Fearless era will forever be known as the one when Taylor Swift sparkled and shimmered like Swifties always knew she could. Between 2008 and 2009, the singer rocked a style that was all about embracing the glitz and glam of the late aughts. Minidresses adorned with sequins and glitter became her fashion anthem, making sure she always stood out in the crowd. This era was a time of growth and self-assurance for Swift, who had just released her sophomore album, "Fearless."
Her signature curls were still in full swing, but let's not forget that classic winged cat eye she started rocking religiously around this time. It quickly became her go-to makeup look, instantly making any outfit she wore more sophisticated. While she had experimented with her style more in her previous era, it seemed like Swift found a fashion formula during Fearless that she liked: a bold dress paired with statement earrings and that unforgettable "cat eye sharp enough to kill a man." 2008 also marks Swift's first appearance at the Met Gala, also known as fashion's biggest night, where she opted for a very Fearless-era sparkly gold gown by Badgley Mischka. The star knew what worked for her, and she boldly embraced it.
The Speak Now era: The singer explores rocker-chic styles (2010-2011)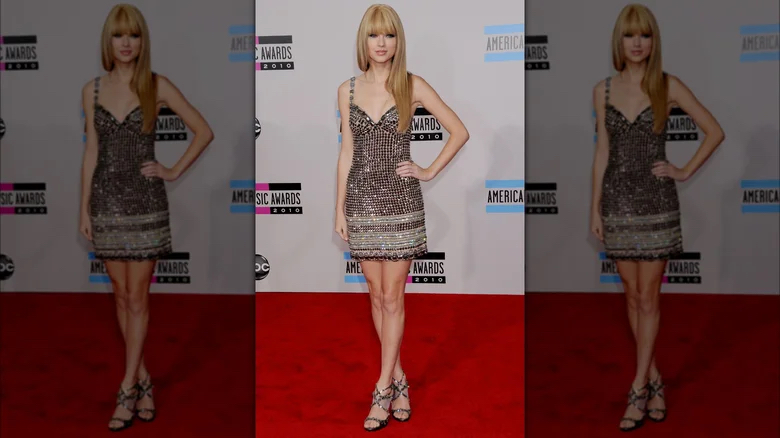 In her Speak Now era — which famously came to be after the Taylor Swift-Kanye West VMAs scandal — Swift decided to take a walk on the wild and whimsical side, giving us simultaneously rocker-chic and fairytale-like fashion. The star still rocked sparkly dresses, but she also explored more traditionally grown-up fashion with red-carpet gowns that showcased her more sultry side.
As Swift began showing us a more edgy and daring side of herself, her curls slowly transformed into looser waves, adding a touch of carefree allure to her look. For some occasions, Swift even rocked her hair pin-straight, something we'd rarely seen on the star until that point. She also dipped her toes into the world of bangs, adding a fun, mysterious element to her appearance. One thing that the singer slowly began exploring during this time was rocking a bright red lip — a fierce choice of makeup that later became another one of her signature looks.
Most Swifties will agree that the Speak Now era was a symphony of transformation, where the singer's music and style evolved together in perfect harmony. She continued exploring new territories, proving that she was a force to be reckoned with, not just in the music industry but also in the fashion world.
The Red era: Taylor Swift's iconic lipstick and fedora (2012-2013)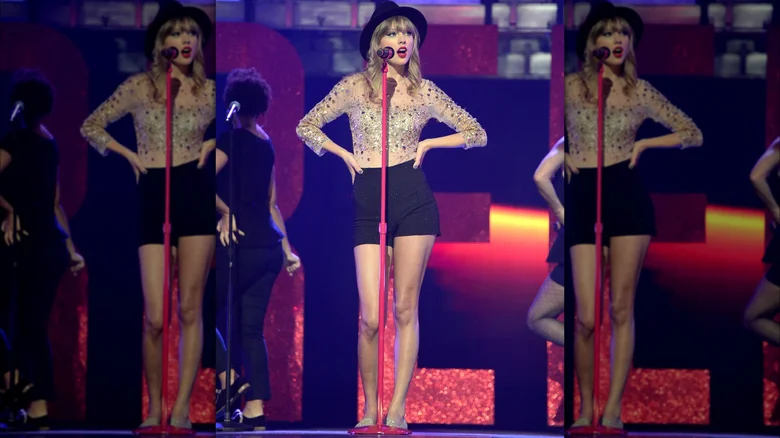 In 2012, Taylor Swift painted the town with her iconic red lipstick and black fedora flair. The bold lipstick choice became her fashion weapon, and it was rare that the star was seen without it. Looking back, it's almost as if she had found her power in it, a fiery hue that perfectly complemented her vivacious personality. She had rocked it before, too, but it wasn't until "Red" was released that it truly became her thing.
Another major style change that sets apart this fashion era from her previous ones is that Swift slowly embraced rocking shorts, and that added a playful yet powerful edge to her ensembles. Lace was also a staple in her wardrobe, sprinkling a touch of elegance and romance to her already captivating style. Thanks to her "22" music video, a fedora hat became a signature piece during the Red era, giving her outfits a fun and easy-going accessory. Yes, you could say that Swift singlehandedly brought the hat style back in 2012. By this time, Swift had also bid farewell to her signature curls as she mainly rocked her hair straight or wavy. Privately, the Red era was all about coziness and comfort with a preppy twist. Comfy sweaters, Peter Pan collars, and simple ballet flats made regular appearances in Swift's off-duty ensembles.
The 1989 era: The musician finds inspiration in Old Hollywood glamour (2014-2015)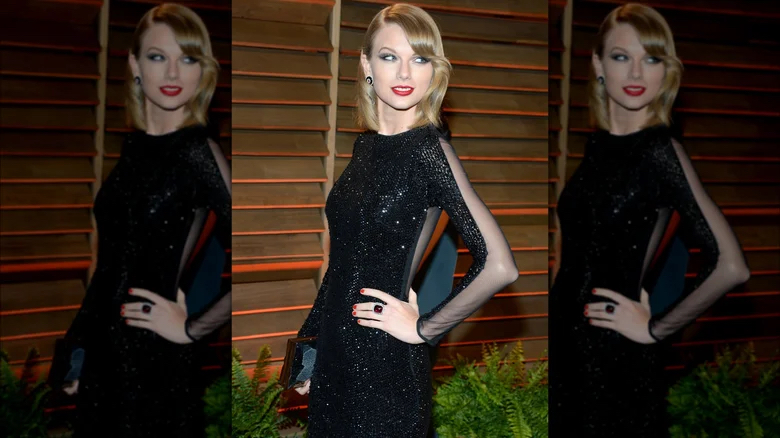 In 2014, the world witnessed Taylor Swift's grand entrance into the pop music realm with her album "1989." With this change, she also bid adieu to her country-girl fashion style, leaving behind the cowboy boots and boho dresses that once defined her image. Embracing a new chapter in her fashion journey, Swift stepped into the glitz and glam of Old Hollywood, infusing it with her signature sleek and modern twist.
A bold transformation came with her hair as she took the leap and cut it into a stunning lob. Embracing her hair's versatility, she had fun styling it differently; some days, she'd give us retro nostalgic curls, and on others, she'd confidently rock a sleek straight style. Along with the haircut, she also transitioned to a more natural, linen-blond hue, adding a touch of softness to her look. The red lips were still a staple, perfectly fitting in with her retro fashion vibe. Casual looks during the 1989 era saw Swift donning high-waisted bottoms paired with cropped tops, showcasing her midriff — a signature Taylor Swift look from the period that was copied by fans across the globe.
The Reputation era: The singer goes for moody and bold (2017-2018)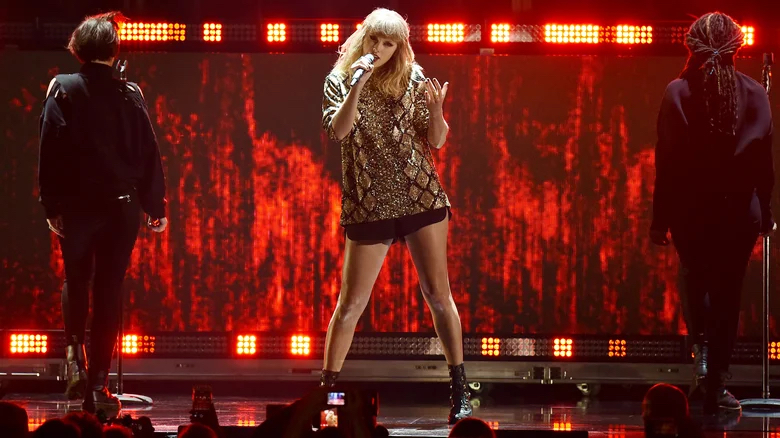 As Swifties surely remember, right before her hiatus, the singer attended the 2016 Met Gala, and there she showed up in an ultra-edgy and dark Louis Vuitton design, with platinum hair and black lipstick — a look that foreshadowed just what her next era would embody. After her hiatus, Taylor Swift returned in mid-2017 with a brave new look and sound. The singer's hair became a grown-out messy lob, adding an effortless edge to her appearance. It was like she was ready to let loose and break free from any constraints, embracing her newfound boldness every single day. Her clothes underwent a dramatic shift as well, transitioning from lively and fun to dark and edgy. All-black ensembles became a very popular choice for the star, and snakeskin prints, as well as grungy combat boots, were Swift's Reputation era staples.
Once again, the change in her fashion made perfect sense, as it completely encapsulated the change in her sound. After her 1989 era, Swift was cast as a villain by the media, and that is exactly the look that she gave everyone after her hiatus. A new, unapologetic dark fashion queen came to the rise, and if you're wondering just where the old Taylor went, well, in the words of Swift herself, she "can't come to the phone right now. Why? Oh, 'cause she's dead."
The Lover era: Taylor Swift is all about rainbows and pastels (2019)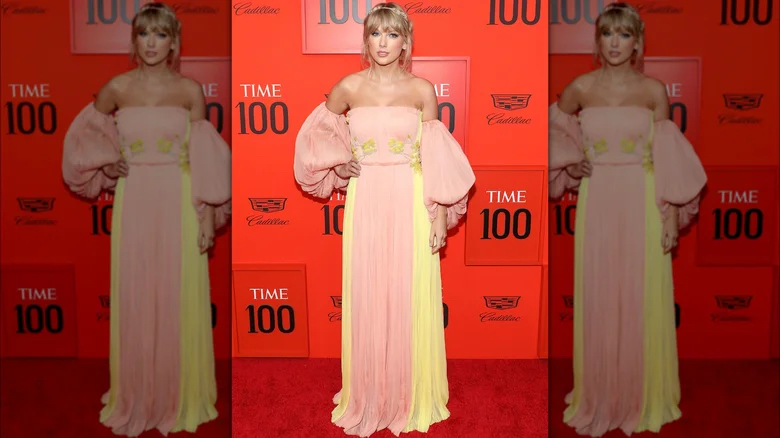 After her Reputation looks, Taylor Swift couldn't have transitioned to a more contrasting era than Lover. Seriously, 2019 was all about explosions of rainbows and pastels. Lover provided a whimsical journey into a dreamy and quirky fashion paradise, leaving behind the moody vibes of 2017 and 2018. Gone were the dark monochromatic looks — Swift fully embraced the magic of pastel colors and fun patterns. It was like she stepped into a candy-colored wonderland, and rainbowcore fashion became her true love. With each appearance, she painted the world with hues of joy and positivity, proving again that fashion is all about self-expression.
Plenty of long-time Swifties were thrilled about the comeback of glitter, whether sprinkled on her dresses or shining in her makeup. The Lover era was a celebration of self-love and embracing the fun side of life, and Swift showcased that through her fashion choices. Even her everyday looks had a hint of pastels or rainbows, reminding us that fun colors don't have an age — and you can rock the rainbow no matter how old or young you are.
The Folklore/Evermore era: The star strips back (2020)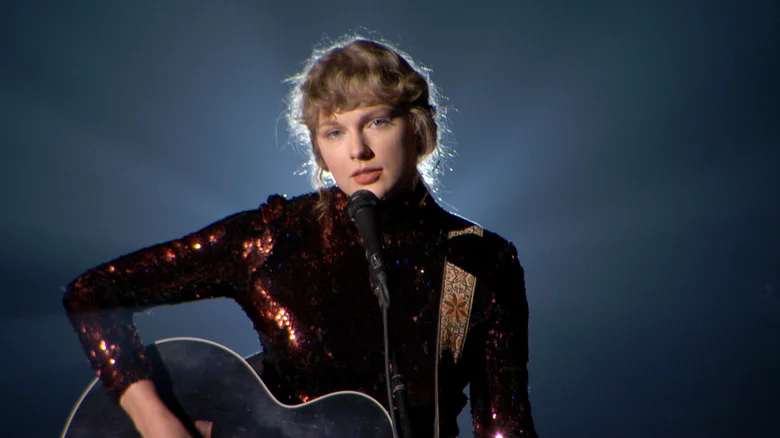 Welcome to the Folklore/Evermore era, where Taylor Swift took us on a journey into the heart of indie folk while also embracing a stripped-back and earthy look. The world was going through a pandemic, and during a globally hard time, Swift graced us with a more intimate and introspective sound, and her personal style followed suit.
Gone were the fun hairdos and colorful makeup of the previous era. Instead, the star embraced her natural beauty, opting for messy waves that perfectly complemented the soulful vibe of her music. Her makeup was minimal, if she even wore any. Although there weren't many public style moments, the few times she was spotted out and about, Swift always prioritized comfort, rocking cozy pieces and flat shoes. Cottagecore became a mantra of this era, where Swift's style mirrored the charm and simplicity of a tranquil countryside cottage. Through her music and simple style, she created a refuge for her fans, reminding us of the strength of vulnerability and the magic of being true to oneself.
The Fearless/Red (Taylor's Versions) era: The musician giving boss energy (2021)
As Taylor Swift commenced the release of her re-recordings, a slight shift in her style took place, leaning towards a formal aesthetic that embraced pantsuits over dresses. The Fearless/Red (Taylor's Versions) era was all about Swift reclaiming her music, and her style gave us unapologetic boss energy. With the release of both albums in the same year, she showed the world that she was, once again, taking charge of her own narrative.
While she still stayed true to the simple and natural essence she brought to the forefront in the previous era, her style took a slight leap towards fierceness again. At the beginning of her 30s, Swift had stepped into her own power, radiating confidence and strength with every outfit she put on — and that made her style that much better.
However, Swift wouldn't be the mastermind she is if she didn't also bring back the two eras she was reclaiming in her style as well. The iconic red lipstick became a popular comeback choice, but this time around, the star rocked it in a minimalist, French way — the best example being her "Saturday Night Live" performance of "All Too Well (10 Minute Version)." For the occasion, Swift opted for a simple, all-black, off-the-shoulder ensemble, messy wavy hair, and bright red lip. She was giving us that je ne sais quoi energy that women have once they mature enough to truly understand and embrace their worth. And that right there is the best accessory.
The Midnights era: Taylor Swift giving us sultry and daring looks (2022)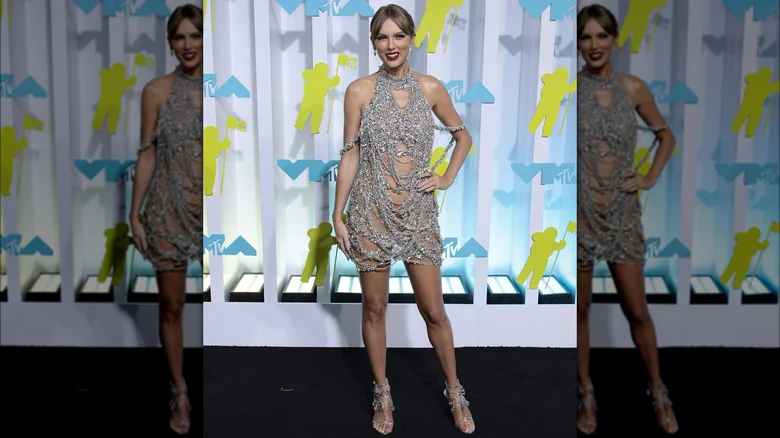 The Midnights era began with the release of Taylor Swift's 10th studio album, and by that time, it became undeniably clear that she had cemented her status as one of the biggest artists of her generation. The realization seemed to have struck the star herself, and she also began to grace us with ultra-bold looks reminiscent of major fashion icons like Cher or Beyoncé.
This era is all about drawing inspiration from celestial elements, as Swift's style is sprinkled with metallic fabrics and pearlescent details. While she had always embraced bright and shiny looks, the Midnights era allowed the musician to also explore a sexier side of her fashion identity. From the bedazzled sheer dress that she wore at the 2022 MTV Video Music Awards to her edgy and alluring outfit at the 2022 MTV Europe Music Awards, Taylor Swift unapologetically embraced her sensuality and unleashed her sultry side. With Midnights, it seems as if she has reached a new level of confidence and empowerment, and we must say that we adore all of her daring and bold recent choices. And yes, we can't miss the opportunity to say that when Taylor Swift walks in the room, she can "still make the whole place shimmer."
The Speak Now (Taylor's Version) + Eras Tour era: The singer as a true chameleon (2023)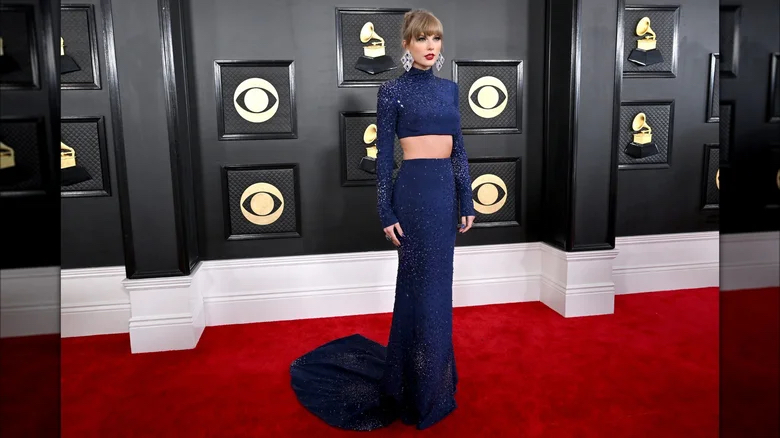 This year Taylor Swift has embraced her true chameleon nature. As she embarked on The Eras Tour, fans were treated to a delightful journey through all of her iconic musical eras. But the excitement didn't stop there — Swift also had plenty of fun with fashion, proving that she really is a style shape-shifter.
With each show, the singer showcased a diverse array of fashion choices, drawing inspiration from her past fashion eras. Swift and her team carefully curated the elements she loves the most from each era, weaving them together into a current look that she effortlessly pulls off. But you don't have to have seen her live to know this. Anyone who has seen any of the Eras Tour videos on social media can easily tell that the star's stage presence is a mesmerizing blend of nostalgia and evolution, leaving her fans in awe of her ability to embrace her past while also embracing the present.
It's clear that Taylor Swift is a mastermind that continues to reinvent herself and her style, showing us that music and fashion are an ever-evolving journey of self-expression. And while most female musicians tend to have a certain fashion aesthetic attached to each of their albums, we have to admit that no one does it quite as authentically and effortlessly as Swift, for whom each era's fashion seems to flow as naturally as the melodies from her heart.
Originally sourced from Glam.
---
For enquiries, product placements, sponsorships, and collaborations, connect with us at

[email protected]

. We'd love to hear from you!
---
Our humans need coffee too! Your support is highly appreciated, thank you!