Festival de Cannes' 2023 chapter is turning out to be as exquisite a treat for cinema lovers as it is for fashion fanatics. Like every year, the namesake city on the French Riviera assembled a wild and eclectic showbiz cohort to partake in a celebration of all things art. And Cannes both appreciates and encourages a creative range. Where in one corner of the film festival the Depp father-daughter duo ruffles feathers with their concurrently controversial projects, "Jeanne du Barry" and "The Idol," in another corner, legendary disrupter and fashion icon Helen Mirren experiments with a stunning ocean-blue hair color on the carpet.
Cannes attendees have shown up gloriously for fashion this year — from Rosie Huntington-Whiteley sporting a chic gown with a dangerously long split to Viola Davis resembling a celestial being in all-white couture. Supermodel and eternal knockout Naomi Campbell was there, too — obviously winning the festival's fashion game.
Meanwhile, all the way over on the other end of the spectrum were certain looks that didn't serve as brilliantly as they set out to do. Here are all the worst-dressed stars at the 2023 Cannes Film Festival whose wardrobes underwhelmed and confused but, most of all, fell short of their own fashionable standards.
Ashley Graham
We're all for enchanting gowns with voluminous billows that seem like they're straight out of a fairy tale. But out here in the real world, where storybook rules don't apply, the distinction is thin between dresses and bedsheets. Ashley Graham probably missed the memo. The celebrated model sauntered onto the Cannes red carpet for the "Club Zero" premiere dragging a fluffed-up blue trail behind her.
To say that it was melodramatic would be an understatement, given that Dolce & Gabbana also went all out with roomy ruffles and folds all around the dress' front and back. As Graham wrote on Instagram about her gown: "When they said take up space, I FELT that." Everybody felt it.
The model seemed to revel in her airy, cloudy dress that, from a distance, could easily be mistaken for an unshapely mass of rumpled sheets. Social media users and fans let Graham know as much in the comments on her feed. Though life-size gowns are prone to worldly practicalities like creasing and wrinkling, the industry has figured out a solution (of sorts) through the time-tested art of lying back through the ride to the venue — Jennifer Aniston showed us how on Instagram back in the awards season of 2020. Graham would do well to try her hand (rather, back) at this celebrity hack the next time she slips into a mega-dress.
Ester Expósito
The great thing about a film-fashion confluence like Cannes is that it platforms an aesthetic so wide-ranging that onlookers are left more perplexed than impressed. Ester Expósito hit it out of the park on an early red carpet, dazzling in an embellished figure-hugging gown. In fact, the look landed her on Vogue Singapore's exclusive best-of list from the international festival.
Then Expósito totally flipped the switch and showed up for a second appearance in a two-piece combo that radically contrasted her well-received golden number. For a photocall for her film "Lost in the Night," Expósito opted for pastel-hued attire with distressed, feathered detailing that blended shades of pink and white.
Acne Studios designed the outfit that would possibly pass for haute couture or some such high-fashion sensibility. But the tattered silhouette and askew sleeves gave a disorderly impression that suggested Expósito had fished the clothes out of the back of a forgotten drawer instead of procuring them from a reputed design label. 2023 was the "Elite" star's first year walking the red carpet as a member of the film fraternity, an experience she told The Hollywood Reporter was "very magical and very emotional." Wardrobe aside, it's a huge win for her!
Travis Scott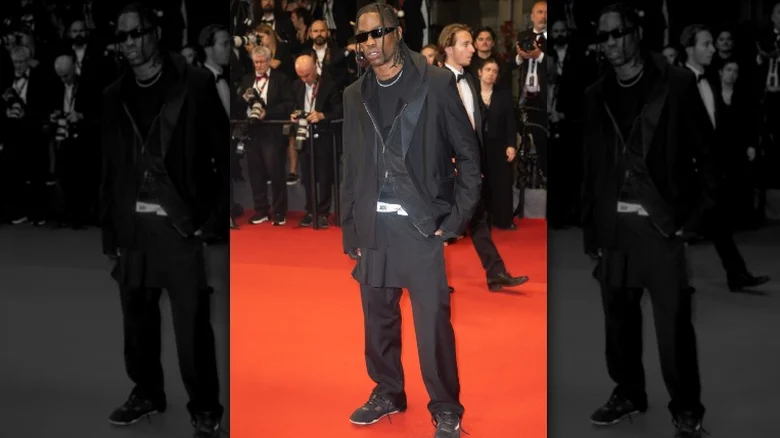 Every time one thinks Travis Scott can't go any baggier, he proves everybody wrong and does. The rapper showed up for the Cannes screening of the highly talked-about drama series "The Idol" in a monochromatic ensemble made of layers upon layers of black. Believe it or not, skirt pants and fingerless gloves were involved. Scott swaggered down the red carpet wearing shades that complemented the devil-may-care fit of the long coat falling down his frame, but there was something else that piqued the interest of eagle-eyed fans far more. 
Sneakerheads deep-focused on the "Antidote" artist's footwear, which they believed hinted at his possible new collaboration with Nike's Jordan line — an outing that has been hugely successful in the past. Per GQ's proclamation, Scott has risen as one of the biggest figures in the sneaker industry, right up there with the likes of legendary designer Virgil Abloh. As one industry expert told the publication, "There's been a vibe around Travis the last few years."
Whether or not his Cannes wardrobe matched up to said vibe, Scott sure got tongues talking by revealing just enough of that iconic reverse swoosh on his kicks to spark excitement.
Jennifer Lawrence
Rarely has the ever-suave Jennifer Lawrence fallen prey to a fashion misfire. She lived up to her reputation for immaculate style at Cannes 2023 with a showstopping fire-red gown that exuded classic Hollywood charm. The Christian Dior piece, complete with a billowing skirt and an elegantly draped shawl, made the "Bread and Roses" producer look every bit a princess. That is, until she lifted her gown to walk down the stairs, exposing a pair of everyday flip-flops underneath. The formal-informal contrast was bewildering, but Lawrence, as only she could have, pulled it off with laid-back ease.
This was not the first time the Cannes red carpet has witnessed the flouting of its tight rules. The Lawrence episode links back to a memorable predecessor from 2018, when "Twilight" star Kristen Stewart kicked off her stilettos and, in a show of characteristic rule-bending, walked up the film festival's stairs barefoot.
In recent years, the gendered dress code at black-tie film events has invited much criticism and challenge. Lawrence made her stand on the matter clear, though she did plan her defiance better than her peers. She turned up in adherence to the no-flats rule, per Harper's Bazaar, but apparently brought a spare comfy pair to switch out her matching red heels.
Tim Schaecker
It's always a delight to see men take the traditional black-tie rule at film events out for a creative spin. But there is only so much you can do to a tuxedo and still have it look dapper. Content creator and internet sensation Tim Schaecker seemingly put the theory to the test and ended up with a suit that looked like a failed experiment. His Moschino tux was a riot of purple accented with black that carried the appearance of having been spray-painted on. That was not the only likeness his tux bore. It resembled other things — a tie-dye project, a color-staining accident in the washer — the list goes on.
"Purple is the new black," the TikToker proclaimed on Instagram, sharing his look from the "Indiana Jones and the Dial of Destiny" premiere. Sure, both colors have a timeless quality to them, but there's a reason why purple tuxedos aren't more common in the world, a reason Schaecker helped make apparent.
That the spray-painted suit didn't work wasn't on Schaecker's head, evident in the suavity with which the young star pulled off other Cannes looks — one of which involved a canary yellow coordinated set.
Julia Fox
Julia Fox tested the limits of her zany style at Cannes 2023 by parading down the carpet as a plastic princess draped in a baffling choice of fabric. The synthetic material was sheer enough to reveal a transparent corset fitted across the top, while the rest of the gown fell loosely around her body. The large bow detailing in the back, whose make gave it the resemblance of a knotted polyethylene bag, was perhaps less striking than Fox's makeup constituting a dab of white across her face and dark lips to accompany.
According to Women's Wear Daily, the sheer dress was from the house of Nicolas Jebran, though the designer refrained from featuring Fox in it on their star-studded Instagram feed.
The "Uncut Gems" star's other appearances at the film festival made clear that she was sticking to a theme centered around see-through looks. She followed her first dress up with a second that mimicked its predecessor's plastic, hung-down character — except this one was ornamented with pom-poms and a coordinated headpiece. To another party, Fox showed up nearly topless in a glass breastplate and a decorative white bottom that looked more like cake frosting than it did a skirt. Fox's unwavering confidence in carrying her wardrobe was probably the only appreciable thing about it.
Frédérique Bel
With multiple past appearances, French star Frédérique Bel is somewhat of a Cannes regular. So we're curious to know what inspired the actor to off-road so sharply from her usual agreeable fashion and wade into whimsy. For one premiere at the 2023 festival, Bel chose to go with a sheer gown that, though full-length in design, revealed more than it covered. The see-through mesh was strategically embellished in all the necessary places with geometric gold and silver prints, while a matching choker adorned her neck. While her outfit made little sense, Bel's updo that channeled old Hollywood glam was a redeeming factor.
Bel's gauzy gear did not impede her upright strut down the red carpet, a symbolic ode to her early days in showbiz as a lingerie model. Explaining her professional inclinations, as quoted by Glamuse, Bel said: "I like to offer my sensuality to the lens while keeping a part of the mystery."
Her Limited Edition 999 dress matched well with that description, though it didn't delight as much as the piece Bel wore to the "Asteroid City" premiere did. A yellow gown, a colorful crop jacket, a dainty headband — it was a recipe for success!
Aishwarya Rai Bachchan
Aishwarya Rai Bachchan showing up as a tinfoil-wrapped burrito was not on our Cannes bingo! The Indian beauty, who has been the face of South Asian representation at the film festival for two decades, has a long-standing reputation for hitting the fashion mark nearly every year. Apparently, even Miss World doesn't have it down all flawlessly. Bachchan's two-toned Sophie Couture gown, with what is being touted as a silver "mystical hood" (per Vogue India) and a ginormous black bow running down the center, did little to flatter the iconic actor and much to inspire a flood of memes online.
To be fair, the brand's first unveiling of Bachchan's dress on Instagram did seem like a glamorous reproduction of medieval cloaks and looked about to deliver the mystifying quality it promised. Unfortunately, the execution could not live up to the ambition.
At least, not as resplendently as Bachchan's head-turning Michael Cinco ballgown from 2017 that gave Cannes one of its most unforgettable fashion moments of all time. Her dreamy Cinderella dress landed the actor on major lists of fashion wins on the red carpet that year — a feat that would be hard to echo when one is draped in aluminum.
Irina Shayk
Irina Shayk is stripping it down for Cannes — and how! The renowned Russian model has dared to bare it all more than once at the prestigious film festival that sees the who's-who of cinema in attendance and where unspoken rules mandate guests to dress formally. In open defiance of convention, Shayk walked the red carpet to the premiere of "Firebrand" in a barely-there leather ensemble that included a low-waisted skirt and bandage top that covered the chest. "I want to see a different type of fashion at Cannes. I wanted to take a different, modern approach," Shayk explained to CNN about wearing the risqué piece.
Twitter's band of fashion critics had mixed feelings about Shayk's get-up; some were convinced that her leather look was a "serve," while others took umbrage at her makeup and overall style.
Meanwhile, those who were critical of the intrinsic shock value of this outfit were in for a bigger surprise when Shayk showed up for a Cannes party in not much else besides lingerie just a day later. The two-piece Gucci set was draped over by a sheer slip and heavily accented with a statement diamond necklace. She lost her way to the runway, perhaps?
Yseult Onguenet
Too many roses spoil the look. If that's not a saying, it definitely should be, especially after Yseult Onguenet proved it on the Cannes red carpet. The French singer turned up magnificently for her local film festival where "Indiana Jones and the Dial of Destiny" was being premiered, looking like a bouquet of red blooms. It may have been nicer if her Alexander McQueen gown didn't paint such a precise rosy picture (pun intended). The sweeping fabric of Onguenet's dress was gathered on both sides into floral swirls while a gigantic neck frill fanned out behind her head.
There was just too much taffeta and too little Onguenet visible. And it didn't help that the gown was very close in color to the Cannes carpet itself. The luxury label shared glimpses of the dressmaking process on Instagram, though it seemed like many from the social media audience weren't immediately taken by the vague silhouette of the gown.
While some likened the red to holiday wrapping, others were critical of how the form of the dress ate up Onguenet's own. Most pertinent were the sympathies of netizens who wondered about the people sitting in the rows behind Onguenet and her staggering attire at the film festival.
Brie Larson
Brie Larson was front and center at Cannes 2023. That she was acting prominently as a jury member and dancing on tabletops with Michelle Yeoh does not betray that it was only the Oscar winner's first time at the international film festival. Larson's debut in the Cannes circuit could have been far more dramatic and spectacular, had her wardrobe been as distinct as her status at this year's event.
With the exception of a few selections, such as the gold Chanel piece she donned for the "Jeanne du Barry" screening, Larson's outfits have either underwhelmed or baffled.
In what can possibly be perceived as a deliberate choice to align with the quirky tenor of Wes Anderson's creative sensibilities, Larson opted for a midi Chanel dress detailed with ruffles and rabbits (yes, rabbits) while attending the premiere of "Asteroid City." Maybe it's just us, but at a glance, the dress' bulging bottom and animal motifs call back to the now-iconic swan dress that music artist Björk wore to the Oscars in 2001. As Björk's dress did, perhaps Larson's will too attain a superior legacy in the future. But for now, the tulle and sequin combo gives Larson the appearance of something straight out of an adolescent girl's wardrobe fantasies.
Troye Sivan
Troye Sivan, the prince of fluid dressing, failed to match up to his own fashion caliber when he graced Cannes 2023 in a shorts and shirt combo that deserved an afternoon of detention at whatever elementary school he borrowed the uniform from. The two-toned ensemble was given a grungy spin with cutouts and loose tailoring that went heavy on the good-guy-turned-rebel vibe. The get-up definitely didn't make for the most flattering fashion moment in the Australian singer's iconic stylebook but nevertheless complemented the disruptive mood being cast over Cannes by "The Idol," a show that stars Sivan and is being marketed as "the sleaziest love story in all of Hollywood" (via YouTube).
Parallel to his elevation as a global queer icon, Sivan has cultivated a unique style that has stunned on red carpets from the Met Gala (that unforgettable longline dress) to the VMAs (that ab-baring crop top). While his Cannes look missed the mark, it hardly deters from excitement about his future looks.
As the "Youth" singer told Preview, "I think the most important thing about style is just being explorative" — though he claimed his go-to looks largely involved reliable essentials like jeans and T-shirts.
Olivia Culpo
Okay, we'll just come out and say what everybody's thinking. It's time we retire the drop-waist design. Not even a mega-influencer like Olivia Culpo, who flaunted the trend on the Cannes red carpet this year, could influence the masses into believing that it looks natural. Culpo's elongated abdomen ran all the way down her hips in the Miss Sohee gown she wore to the premiere of "Asteroid City." The couture piece included a cutout black top and a periwinkle blue bottom with an abundance of pleats that gathered at her hips and fell down to her feet. 
The drop-waist gown was questionable but briefly ignorable in the face of Culpo's flawless makeup, particularly the dramatic eye action hinted with hues of purple and black. Though the whole look left Culpo's fans divided in her Instagram comments, the model's choice of design was likely deliberate since she has been vocal about her attraction to the silhouette of outfits.
She told Fashionista, "It's not so much about the pattern, it's about the quality of the fit, so everything has an interesting fit." Staying true to her disinterest in heavy jewelry, Culpo skipped accessorizing her Cannes look, save for a pair of minimalistic earrings.
Salma Hayek
Yeah, we weren't exp ecting to see Salma Hayek make the list! A red carpet veteran, the "Frida" star is held in high regard for her individualistic fashion sensibilities that have only evolved forward during her decades-long career. To witness a style misstep from Hayek has been uncommon since she burst onto the Hollywood scene in the 1990s. In fact, it was in the Cannes arena that Hayek debuted an iconic fashion moment in 1999, wearing a satin skirt and powder blue top.
"I made my own fashion style," she told Vogue, revealing that several of her memorable vintage outfits resulted from a lack of resources and an abundance of creativity (via YouTube).
Conforming to her glamorous legacy, Hayek made her Cannes 2023 appearance for the premiere of "Killers of the Flower Moon" in a deep purple gown by Alexander McQueen. The floor-length number sported what the design house called "an exploded neckline and puffball skirt" (via Instagram). The plunging neckline and figure-hugging silhouette — Hayek signatures — made the actor look like a dream, but the blown-up ruffles along the back and the cinched bottom that resembled an Elizabethan ruff collar were a little too quirky. Good thing she didn't let anybody dwell on it for too long, dazzling Cannes soon after in a showstopping, sequin-laden Balenciaga gown weighing 15 kilograms.
This feature was originally sourced from The List.
Cannes Film Festival. Fashion. Celebrity News. People. Celebrity. Cannes 2023. Vogue. Celebrity outfit. beauty.
---
For enquiries, product placements, sponsorships, and collaborations, connect with us at

[email protected]

. We'd love to hear from you!
---
Our humans need coffee too! Your support is highly appreciated, thank you!