Switzerland is one of the most beautiful countries, blessed with stunning natural beauty. The best places to visit in Switzerland are the hidden gems, ones where you can enjoy nature, without being tread upon by hordes of tourists! So if you'd like to experience those hidden gems, read on!
1. BACHALPSEE – THE PRETTIEST SWISS MOUNTAIN LAKE!
This stunning mountain lake located in the Bernese Oberland is one of the most picturesque locations in Switzerland. It's also one of the best (and easiest) hikes in Switzerland. It's the place I recommend to all first time visitors to Switzerland.
The Bachalpsee hike encompasses all that's most beautiful about Switzerland – stunning snow-capped mountains, lush green meadows & valleys, crystal clear lakes, and wildflowers, all to the soundtrack of ringing cowbells! It is one of the best places to visit in the Jungfrau region and my personal favourite place in Switzerland. This lake makes for a perfect day trip and a fantastic outdoor activity cum beautiful hike from Interlaken, Lucerne or even Zurich. In fact, this is one of the best and easiest hiking trails in Grindelwald & the Jungfrau region.
Located in the Bernese Oberland at a height of ~2200 m, amidst lush Alpine greenery and snowy vistas, Bachalpsee is a must-visit place in Switzerland.
While technically not a hidden gem of Switzerland since Bachalpsee is fairly known, there is a hike required to reach the lake which means there are fewer people there. In addition, since it's a 3-km hike, everyone is so spread out that you still enjoy the mountains & the scenery in peace!
The walk upto the lake is just as spectacular as the lake – the sharp peaks of Wetterhorn, Schreckhorn and Finsteraarhorn are visible on the opposite side of the valley as you hike along it. This is the hike that will get you excited for more hikes in the Swiss Alps!
Best time to visit Bachalpsee: Bachalpsee can be visited during the spring/ summer depending on snow conditions. The best time to visit Bachalpsee is during the summer, around May-June when the flowers are at their best and the crowds are much thinner.
How to get to Bachalpsee: Head first to Grindelwald in the Bernese Oberland region – easily accessible by car or train from anywhere in Switzerland. At Grindelwald, head to the Grindelwald First cable car station and take the gondola up to Grindelwald First. A 3 km easy hike from there will bring you to Bachalpsee.
Bonus feature to add to your trip to Bachalpsee: Grindelwald First is a beautiful mountain with a thrilling cliff walk which helps you take in the views in an even better way! There are several more activities such as first glider, first flyer, first mountain cart and trottibike available at this mountain.
Where to stay to visit Bachalpsee: Base yourself at Interlaken or Lauterbrunnen for a quick trip to Bachalpsee. You can also visit the lake as a day trip from Zurich or Lucerne.
2. GELMERSEE – THE LAKE WITH THE ROLLER-COASTER LIKE FUNICULAR!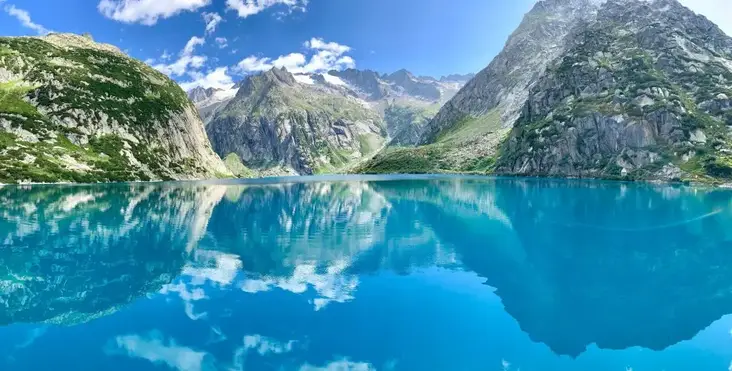 Crystal clear water, mirror-like reflections and no tourists – this lake is a treat to visit. One of the steepest funiculars in Switzerland takes you up to the lake – on a ride that feels more like a roller coaster than a train! With open carriages (and safety bars like a roller coaster), this funicular is one of the best parts of a visit to this lake – it offers sweeping views of the mountains as it takes you uphill. Tickets for the funicular are on a timed entry basis so it's good to book in advance.
There's an optional 2-hour hike that you can do around the lake for even better views, or just walk along the dam and relax on the small beach. Make sure you allocate enough time at the lake while buying tickets since you wouldn't want to head back once you get there!
Gelmersee is an absolutely fantastic and one of my favourite hidden gems of Switzerland – it's quite hard to believe how beautiful the place is. The pictures hardly do it justice!
Best time to visit Gelmersee: The Gelmerbahn runs from May to October and tickets are sold for exact time slots. Try to visit around May – June, preferably in the morning to enjoy the hike and the lake with minimal crowds.
How to get to Gelmersee: This lake is located near Meiringen, about 2 hours' drive from Zurich and makes for an excellent day trip. It is easily accessible by car, however, there are only limited connections with public transportation.
Bonus feature to add to your trip to Gelmersee: After you have visited the lake, you can also continue driving towards the Grimsel Pass for stunning panoramic views, and 3 more lakes to enjoy!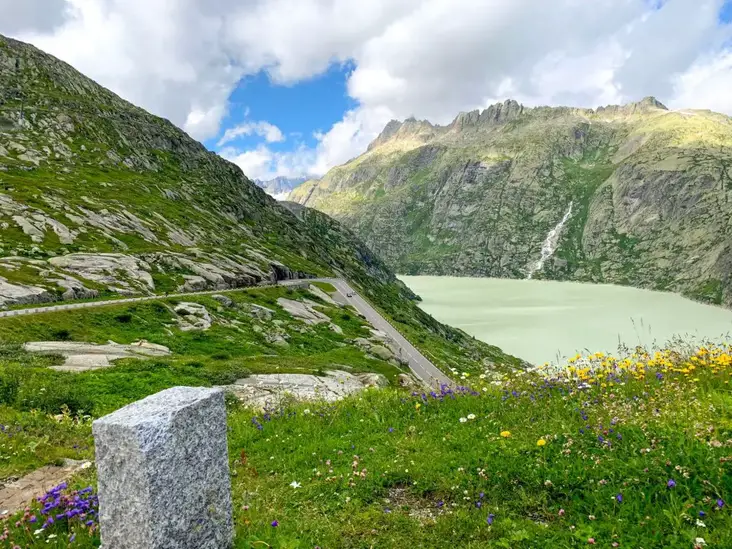 Where to stay to visit Gelmersee: Meiringen or Interlaken, both of which are ~45 minutes' drive away.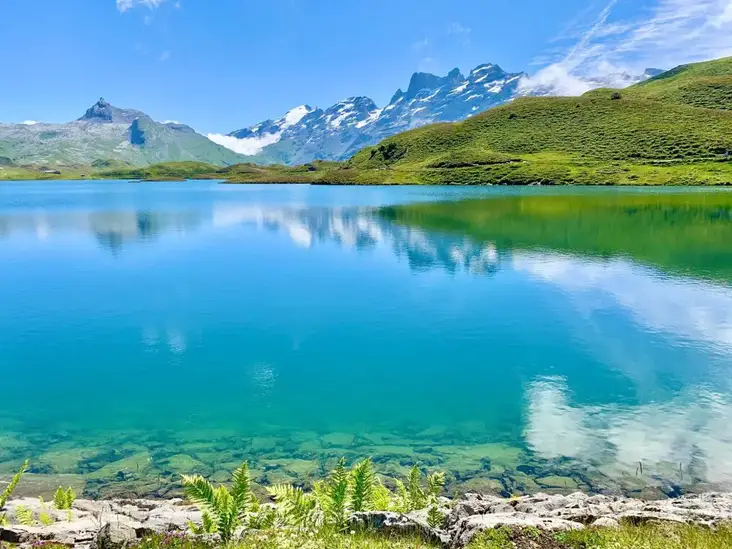 Melchsee-Frutt is a mountain resort village which boasts of 2 absolutely spectacular Alpine lakes – Melchsee & Tannensee. An easy walk through beautiful rolling hills covered in flowers with tall snow peaks visible in the distance and the melody of ringing cowbells make for a fantastic experience up at Melchsee-Frutt!
The two highlights of the place are its picture-perfect mountain lakes – Melchsee and Tannensee. Surrounded by mountains and grassy meadows these lakes are worth a visit even if you do not plan on doing any hiking/ biking/ etc.!
Best time to visit Melchsee-Frutt: The summer season runs from June to October. Visit during the early summer months for some beautiful views of flower-covered grasslands and snow peaks.
How to get to Melchsee-Frutt: Take a train to Sarnen and from there the post-auto bus to Stöckalp. The Melchsee-Frutt gondola station is located at Stöckalp. If you are driving, take the A8 to Sarnen and the cantonal road to Kerns – Melchtal – Stöckalp. There is a large parking lot at the gondola station at Stöckalp.
Where to stay to visit Melchsee-Frutt: There are a few hotels at Melchsee-Frutt so you can stay right next to the slopes and amidst spectacular panoramic views!You can also stay nearby at Kerns or Sarnen.
4. CAUMASEE – THE MOST TURQUOISE COLOURED LAKE EVER!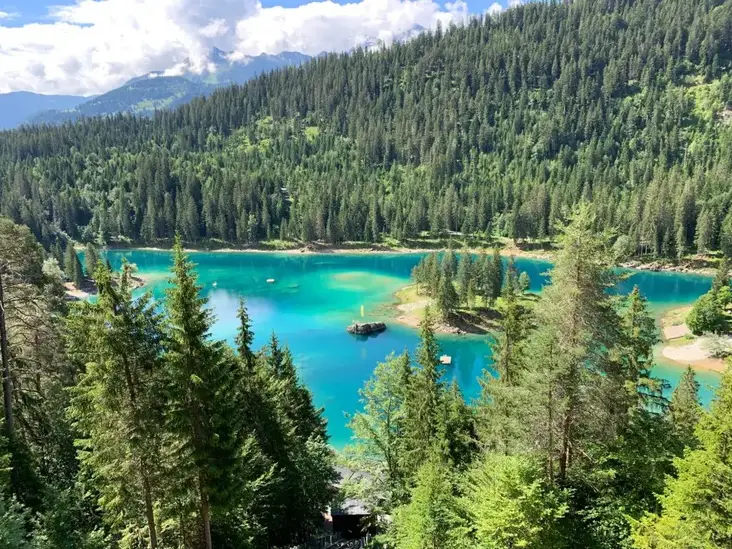 Located in the town of Flims in the Swiss canton of Graubünden, Caumasee is one of the least-touristy places in Switzerland.
Caumasee quite whimsically translates to Lake of Noon Rest. Surrounded by forests, it's an ideal place to relax, swim and have a picnic. The most stunning feature of the lake is its turquoise green water, unlike anything you may have seen before! Caumasee is easily accessible by a very short walk. It can be visited standalone without the need for a hike. Take a virtual tour of the lake here.
Flims was the first area in Switzerland that we hiked in and though the hike may not be as spectacular as some in the Bernese Oberland region, it was still absolutely amazing. Tall mountains, beautiful forests and wild flowers made the trail supremely beautiful.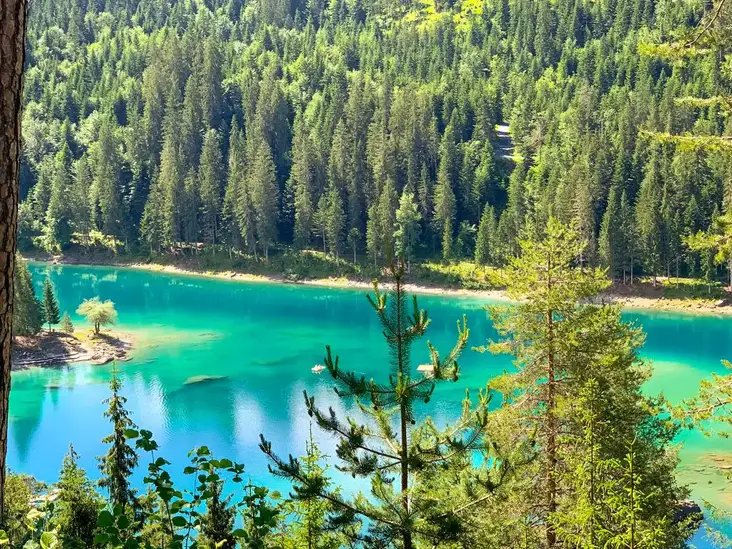 Best time to visit Caumasee: While you can visit the lake year-round, check the weather cam before you visit. The Caumasee lift and the bathing area at Caumasee are open from the end of May to October. While the lift helps save some time, it's not essential to reach the lake.
How to get to Caumasee: You need to first get to the Flims Waldhaus bus stop. From there, follow the signs along the parking lot behind the bus stop to Caumasee lift – it's an easy 10-15 minute walk. This lift takes you directly down to the lake. You can also skip the lift and walk another 15 minutes down to the lake if so inclined.
Bonus feature to add to your trip to Caumasee: Take a hike from Caumasee to The Rhine Gorge, Switzerland's very own Grand Canyon. This 13-kilometer long gorge is the result of geological events tracing back 10,000 years. While you can see the Rhine Gorge from several points along the way, the best views are from the viewing platform – The Il Spir viewing platform is located just a few minutes from Restaurant Conn. The Swiss grand canyon in all its glory can be seen from here.
Where to stay to visit Caumasee: Stay at the nearby town of Flims or if you have the energy, stay in Zurich and visit Caumasee as a day trip (which has been our preferred way to visit the lake several times!)
5. BANNALPSEE – A BEAUTIFUL LAKE SET AMIDST TALL CLIFFS AND WITH NO PEOPLE AROUND!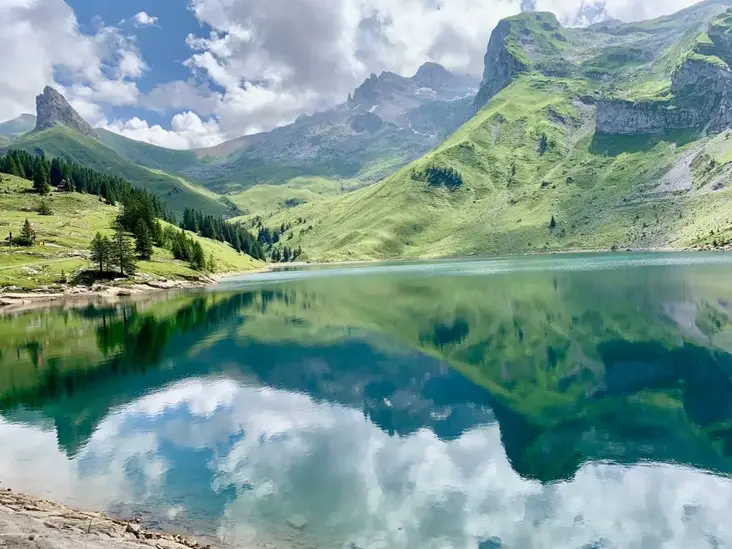 Bannalpsee is a reservoir in Wolfenschiessen in the Swiss canton of Nidwalden and was built in the 1930s. This lake is located close to Engelberg, home to the famous Mt. Titlis.
While there are several hiking options, if you are a more laid back traveller (like me!) you can reach Bannalpsee taking a very short walk. Though this may not be my absolute favourite lake, it's one I'd happily go back to for more visits since it's usually so empty. It's one of the most peaceful places I've come across in Switzerland.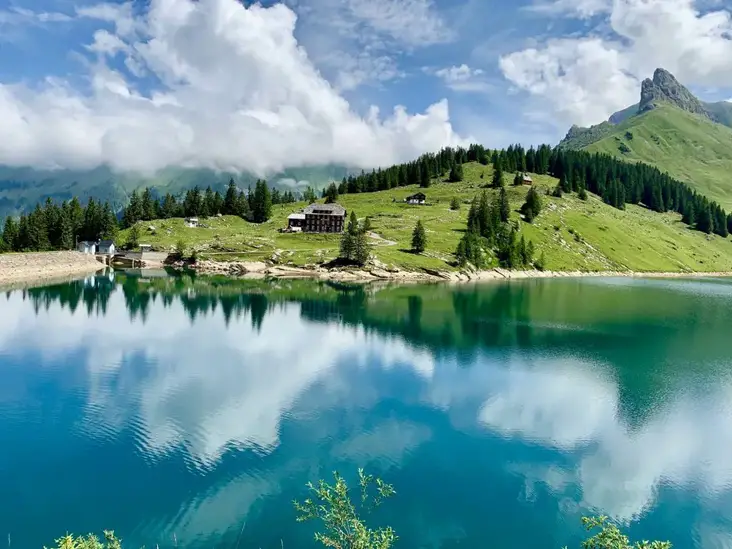 Best time to visit Bannalpsee: If you are there just to visit the lake, May to October would be ideal. The cable car runs during winter too if you're interested in winter activities.
How to get to Bannalpsee: You need to get to the Fellboden cable car station or the Fell station to take the cable car up to the lake. If you are driving the address for the GPS is: Fellboden, 6387 Wolfenschiessen, Switzerland. By public transportation, take the train to Wolfenschiessen and then the bus from Wolfenschiessen Bahnof to Oberrickenbach, Talstat followed by a 2 minute walk to the Fellboden cable car station.
Bonus feature to add to your trip to Bannalpsee: Located just 15-20 minutes' drive (or train ride) away is the town of Engelberg, home to the cable car heading up to the famous Mt. Titlis.
Where to stay to visit Bannalpsee: Engelberg is closest to the lake, however Lucerne or Zurich would be more central locations to stay at.
See also: Where to stay near Bannalpsee
6. STOOS – THE WORLD'S STEEPEST FUNICULAR!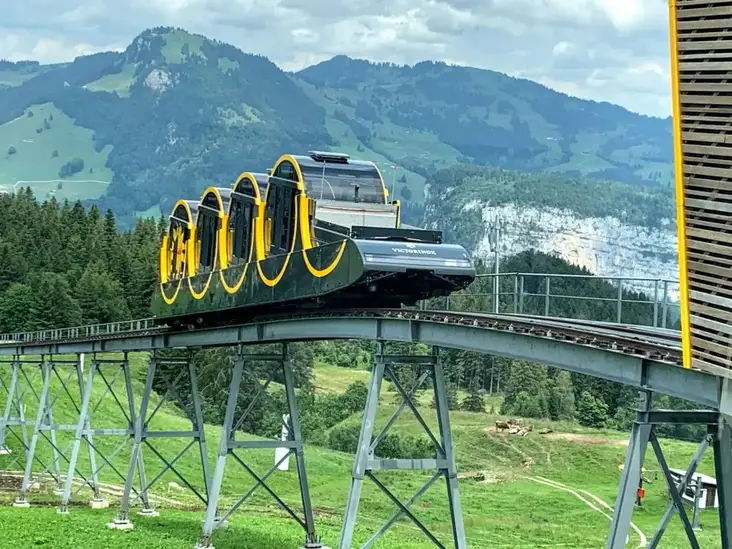 The world's steepest funicular (with a 110 per cent incline and covering ~740 metres altitude in just about 5 minutes!) brings you to the charming village of Stoos, located at the foot of the Fronalpstock mountain. Stoos is a beautiful village that you can walk across in about 30 minutes.
Once you've explored the village, take the chair lift and head up to the mountain for some panoramic views and spectacular hikes. Located at ~1900 m Fronalpstock has several viewing platforms and hiking paths to take in the stunning views over Lake Lucerne and 9 other lakes!
Best time to visit Stoos: Year round! Go in the summer for the beautiful hikes and in the winter for fun winter sports.How to get to Stoos: If you're driving, head to Stoosbahn to take the funicular up to the village. Using public transportation, head to Schwyz and take the bus to Stoosbahn.
Bonus feature to add to your trip to Stoos: Explore the beautiful lakes of Lucerne or Zug nearby.
See also: Where to stay near Stoos
7. BRIENZ – SWITZERLAND'S MOST IDYLLIC LAKE!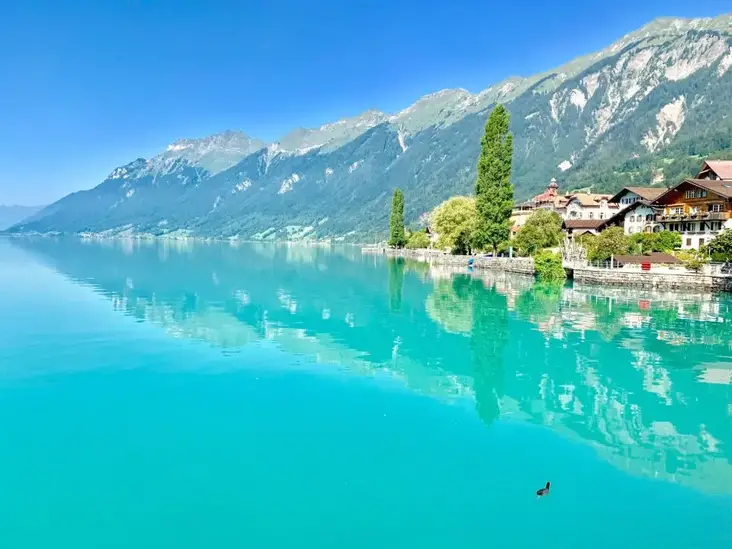 Lake Brienz is one of the prettiest, yet one of the most underrated lakes in Switzerland! The uniquely turquoise blue colours of the lake, the charming Swiss villages around it and the beautiful landscapes of the Swiss Alps make Lake Brienz one of the best places to visit in Switzerland and one of my absolute favourite Swiss Lakes!I had first visited Lake Brienz several years ago when I was an exchange student in Paris and had fallen in love with it and with Switzerland! I had then dragged my husband for a holiday to the lake a few years later. Fortunately, I've now been able to make innumerable visits to Lake Brienz since we moved to Switzerland!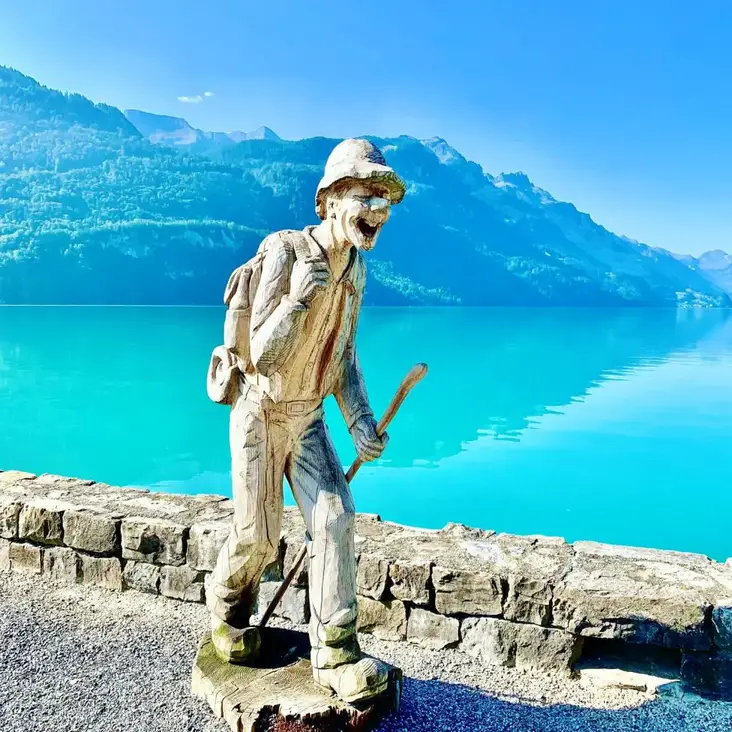 Best time to visit Brienzersee: All year round!
How to get to Brienzersee: One of the easiest lakes to reach, you just need to get to the town of Brienz – easily accessible by public transportation or by car!
Bonus feature to add to your trip to Brienzersee: Take the charming steam train up to Brienz Rothorn, the 2350 meter summit for some panoramic views.
Where to stay to visit Brienzersee: Stay right in the town of Brienz or at nearby Interlaken.
See also: Where to stay near Brienzersee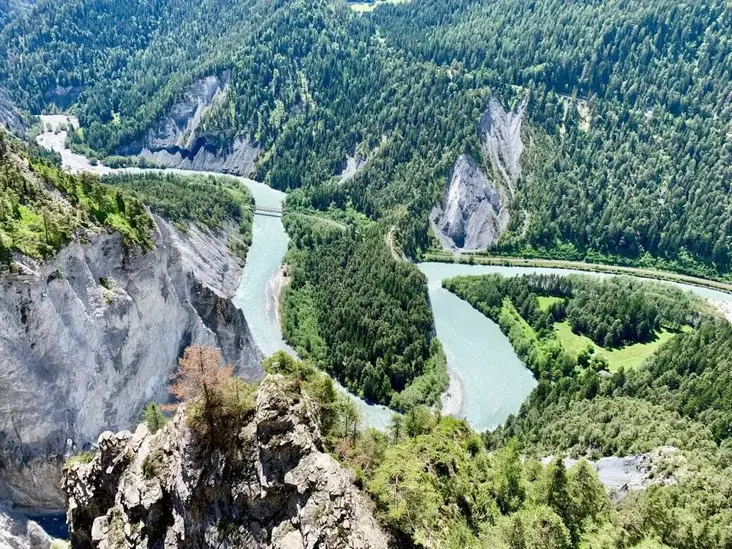 The Rhine Gorge is Switzerland's very own Grand Canyon. This 13-kilometre long gorge is the result of geological events tracing back 10,000 years. You can do several hikes around this area to take in the stunning views of the gorge.
9. AARE GORGE – AN AWE-INSPIRING GEOLOGICAL PHENOMENON!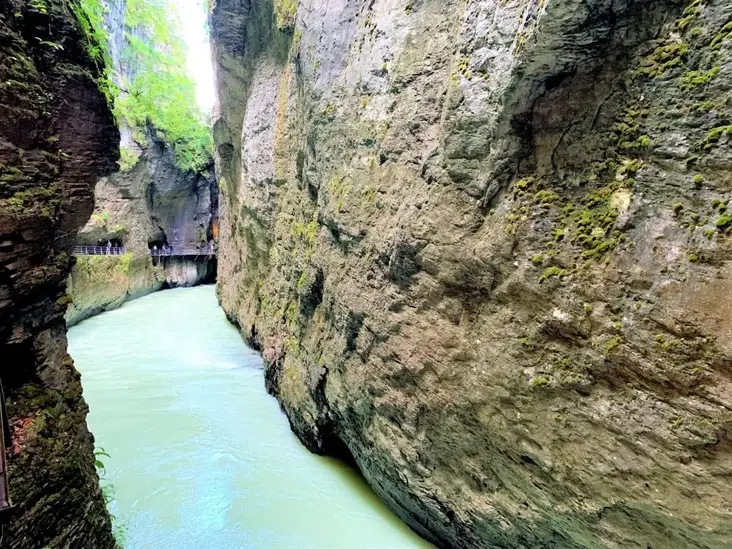 The Aare Gorge is a stunning rock formation made by the Aare river eroding a series of rocks over thousands of years. There are a series of walkways inside the gorge to give you a close glimpse of this awe-inspiring geological phenomenon.
10. LAVERTEZZO – A ROMANTIC SWISS VILLAGE
One of the lesser-known places in Switzerland, Lavertezzo is a picturesque village, in southern Switzerland. The unique stone buildings in the village give it a very historic, romantic charm.My favourite feature of the place is the 17th century double-arched stone bridge Ponte dei Salti over the River Verzasca. This strikingly emerald-coloured river will make you question whether it's possible to have such vivid colours naturally! Smooth, bright white rocks along the river add to its other-worldly charm and make for the perfect spots to sunbathe or relax after a swim.
Best time to visit Lavertezzo: Visit during the summer so you can take a dip in the beautiful river!
Bonus feature to add to your trip to Lavertezzo: Ascona is located just about 30 minutes away from Lavertezzo so you can combine the two into a day trip!