BuzzFeed's Tasty, the world's largest social food network and fully diversified leading global food brand, and General Mills, a leading global food company whose purpose is to make food the world loves, are coming together to launch Tasty Dinner Kits to make it easier than ever to cook delicious, versatile meals at a time when consumers are looking for a solution to kitchen burnout.
Tasty Dinner Kits are available in four vibrant flavors: Chicken Tikka Masala, Creamy Salsa Verde Chicken, Korean-Style BBQ Beef, and Creamy Tuscan Chicken. Each kit includes seasoning, sauce and a rice or pasta base, and simply requires the consumer to add a protein and a vegetable to complete the whole dish. Tasty tapped into its direct feedback loop with its massive online audience and used deep consumer insights to develop a collection of diverse flavors that would resonate with today's home cooks. By representing four different cuisines (Indian, Mexican, Korean, and Mediterranean), Tasty is continuing its mission to make cooking more accessible and giving modern consumers a simpler way to try culinary traditions that might seem intimidating to cook from scratch.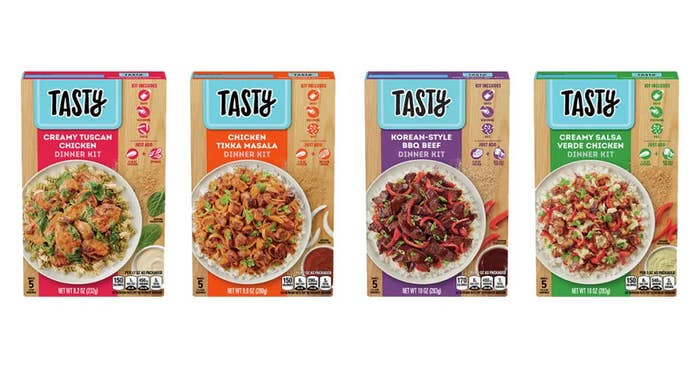 Tasty Dinner Kits are catering to consumer demand for new ways to spice up their cooking routine. After a year at home cooking the same meals on rotation, Tasty Dinner Kits are helping with kitchen burnout and providing consumers with an easy way to add an exciting burst of flavor at dinnertime. BuzzFeed applied its data-driven approach when creating the kits, leaning heavily into several rounds of insight testing which demonstrated that consumers are looking for dinner solutions that simplify complex meals and feature unique, bold flavors across various ethnic cuisines.
"We know consumers across the country have been cooking at home more than ever before, and it can be challenging to come up with new ideas for dinner every night that check all the boxes: delicious, quick and easy, and budget-friendly. The box that often doesn't get checked is: new and exciting. With Tasty Dinner Kits, we set out to give consumers a way to check every single box, including exciting new flavors and culinary traditions," said Eric Karp, BuzzFeed's SVP of Global Brand Licensing. "We're delighted to introduce these vibrant cuisines into General Mills' lineup of meal solutions and help cater to what we know consumers are craving now more than ever."
Tasty Dinner Kits are currently available at Kroger stores nationwide. The kits will be rolling out to regional grocers throughout the summer and fall. Each kit has a suggested retail price of $2.99.
General Mills is known for delivering convenient and affordable meal solutions, including its iconic Helper line, and Tasty Dinner Kits are putting a fresh new twist on consumers' favorite mealtime kits. As the #1 food brand among Millennials and Gen Z, Tasty is helping General Mills reach a new generation of consumers who are looking for budget-friendly solutions to get meals on the table quickly, versus spending money to eat out at a restaurant.
"We are thrilled to add Tasty Dinner Kits to our portfolio of meal solutions," said General Mills Dry Meals Brand Manager, Luke Niethammer. "With their highly engaged audience and data-driven insights into meal trends, Tasty is the perfect partner to help General Mills reach new consumers and empower them to make new and exciting meals easily."
The strategic partnership between General Mills and BuzzFeed includes a licensing program with four Tasty branded meal kit SKUs and a robust media plan from the General Mills portfolio promoted across the BuzzFeed network over a two-year period. By partnering with BuzzFeed across both licensing and media, General Mills is leveraging Tasty's proven track record of bringing fresh and innovative products to market that help make cooking more accessible and tapping into its highly engaged audience of home cooks who look to Tasty for cooking inspiration (8 in 10 Tasty viewers have made a Tasty recipe).
Tasty Dinner Kits with General Mills is the latest consumer food product by Tasty, following Tasty Meats with Mistica, Tasty Breakfast Poppers with Food Story, Tasty Dairy Treats with Schrieber, Tasty Seasonings with McCormick, Tasty Baking Kits with Kraft and more. BuzzFeed's robust licensing business extends the iconic Tasty brand IRL, giving its massive audience additional touchpoints for engaging with Tasty throughout their daily lives, including a versatile collection of CPG products, an ever-expanding kitchenware line at Walmart, a series of best-selling cookbooks, and more.
About General Mills
General Mills is a leading global food company whose purpose is to make food the world loves. Its brands include Cheerios, Annie's, Yoplait, Nature Valley, Häagen-Dazs, Betty Crocker, Pillsbury, Old El Paso, Wanchai Ferry, Yoki, BLUE and more. Headquartered in Minneapolis, Minnesota, USA, General Mills generated fiscal 2020 net sales of U.S. $17.6 billion. In addition, General Mills' share of non-consolidated joint venture net sales totaled U.S. $1.0 billion.
About BuzzFeed
BuzzFeed is the world's leading tech-powered, diversified media company that reaches hundreds of millions of people globally through its cross-platform news and entertainment network. The company produces articles, lists, quizzes, videos, and original series; lifestyle content through brands including Tasty, the world's largest social food network; original reporting and investigative journalism through BuzzFeed News and HuffPost; an industry-leading affiliate business, strategic partnerships, licensing and product development through BuzzFeed Commerce; and original productions across broadcast, cable, SVOD, film and digital platforms for BuzzFeed Studios.