Jennifer Wolak, Michigan State University
Politicians want to be heard – to land a soundbite on the nightly news, to advertise their legislative accomplishments and to have people know their platform. But when given opportunities to talk to voters, they often share details about their personal lives instead.
Presidential candidate Tim Scott used a September 2023 appearance on Fox News to talk about his dating life, saying that voters would soon meet his girlfriend. On Twitter, Senator Ted Cruz often posts football clips and selfies at sporting events.
And in July 2023, President Joe Biden, who has described himself as an "ice cream guy," tweeted a picture of himself holding an ice cream cone captioned, "In my book, every day is National Ice Cream Day."
This trend of politicians sharing personal information isn't new.
One study of campaign tweets found that congressional candidates in 2012 were more likely to tweet about their personal lives than their policy platforms.
Why do politicians share so much from their personal lives on the campaign trail?
I am a scholar of political science, and my research shows that when people see elected officials as people and not just politicians, it boosts their popularity. It also reduces party polarization in people's views of politicians.
'House of Cards' to hot sauce
My research was inspired by the weekly column, "25 Things You Didn't Know About Me" published in the celebrity entertainment magazine Us Weekly. While actors, musicians and reality television personalities regularly share facts about themselves or their personal lives in this column, several politicians have been featured over the years.
In 2016, then-presidential candidate Cruz shared with the magazine that his first video game was Pong and that he has watched every episode of the Netflix drama series "House of Cards." When she was running for president in 2016, former Secretary of State Hillary Clinton shared that she loves mystery novels and puts hot sauce on everything.
I was interested in whether these kinds of autobiographical and apolitical details changed how people evaluate elected officials.
As part of my research, I noted five items from the list Cruz provided to Us Weekly in 2016, along with five similar autobiographical details collected from the news that same year about Senator Bernie Sanders.
Details about Cruz included that his favorite movie is "The Princess Bride" and that he was once suspended in high school for skipping class to play foosball. Sanders, meanwhile, has shared in news interviews that he is a fan of the television show "Modern Family" and that he proposed to his wife in the parking lot of a Friendly's restaurant.
I then shared these details with a nationally representative sample of 1,000 Americans in a survey conducted just before the 2020 election. Half were asked to just rate the senator, while the other half were given one of these lists of autobiographical details before rating their favorability toward the senator.
I found that those who read autobiographical details gave warmer evaluations of the politicians than those who did not learn these facts.
Even though both Cruz and Sanders are well known and arguably polarizing politicians, members of the public nonetheless shifted their opinions of the senators when they found out a little more about them as people.
I also found that these autobiographical details led to candidate ratings that were less polarized along party lines.
People's party loyalties typically determine their views of elected officials. People offer positive ratings of politicians who share their partisan loyalties and very negative ratings of those from the opposing party.
But in my research, I found that minor details like Cruz's penchant for canned soup were especially likely to boost his ratings among Democrats. And Sanders' love of the musical group ABBA was especially likely to improve his favorability ratings among Republicans.
We know that people tend to evaluate new information through the lens of their partisan biases. People generally accept new information that reinforces their views, and are skeptical of information that is inconsistent with their prior beliefs.
But when politicians share autobiographical details, people see them as humans – and not just through the lens of their usual partisan biases. When politicians talk about their personal lives, it not only appeals to their supporters, but dampens the negativity people feel toward politicians from the opposing party.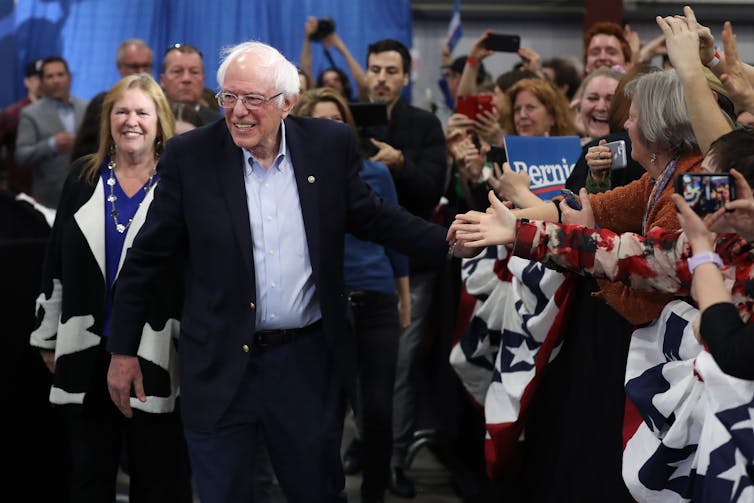 What this means for politics
Even in a time where partisanship drives elections, there is still value in being likable.
For elected officials who want to boost their support among supporters of rival partisans, shifting the focus to personality rather than partisan politics can be a useful strategy.
I think that this approach could also help depolarize politics.
If political campaigns focused more on the candidates rather than replaying familiar partisan divides, views of elected officials would be less polarized along party lines.
It can be tempting to dismiss the political content in late night talk shows or celebrity entertainment magazines as mere fluff and a distraction from serious policy debates. But we also know that policy issues rarely matter for the votes people cast. Instead, party loyalties determine much of people's decision-making. In a time of deeply partisan politics, it is useful to find ways to interrupt partisan biases and decrease polarization.

Jennifer Wolak, Professor of political science, Michigan State University
This article is republished from The Conversation (https://theconversation.com) under a Creative Commons license. Read the original article (https://theconversation.com/the-president-loves-ice-cream-and-a-senator-has-a-new-girlfriend-these-personal-details-may-seem-trivial-but-can-help-reduce-political-polarization-211981).
---
For enquiries, product placements, sponsorships, and collaborations, connect with us at

[email protected]

. We'd love to hear from you!
---
Our humans need coffee too! Your support is highly appreciated, thank you!