Chris Hemsworth took to Instagram on Friday to share his workout routine.
The Australian actor, who celebrated his 40th birthday on August 11th, posted a video where he showed off his ripped physique while sharing his full body workout routine with ultra-marathon sea swimmer Ross Edgley, 37. 
'Doing a lot less heavy weight sessions lately and incorporating sprint work and more functional movements. A solid full body workout routine. Feeling good 💪 👊.' Hemsworth wrote the lengthy caption of his Instagram post.
'And in case your wondering yes, I left @rossedgley in the dust…..um well maybe, unfortunately the camera ran outta film so we'll never know for certain @centrefit.'
Both Hemsworth and Edgley went shirtless in the video and flaunted their washboard abs.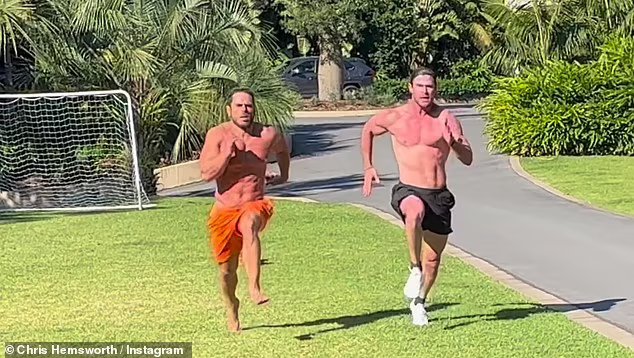 The Thor star wore a black pair of shorts from Nike, a tan-colored baseball cap, a pair of black sunglasses, and a pair of white tennis shoes.
As for Edgley, the British athlete wore a pair of bright orange workout shorts and opted to go barefoot.
The song 'Sure Shot' by the American hip-hop group The Beastie Boys, could be heard playing in the background of the clip.
The video, which is 32 seconds in length, starts off with Hemsworth and Edgley doing some sprints on grass with a tiny dog following them.
Then, it cuts to the 40-year-old actor outside in the backyard of his home doing a variety of workouts, including throwing a large black weighted medicine ball on the ground and catching it high up in the air and moving two thick black robes up and down.
Later, the video showed Hemsworth holding a smaller white weighted medicine ball with both of his hands and moving it from side to side.
Hemsworth is also seen doing several bear crawls on the floor and doing some push ups with two weights in both of his hands.
The video was part of the Australian actor's Centr fitness app, a personalized digital health and fitness platform.
He launched the program in 2019 and according to Business Wire, Centr offers,  'expert-driven fitness, nutrition, and mindfulness programming to help over 200,000 global subscribers strive to meet their training goals.'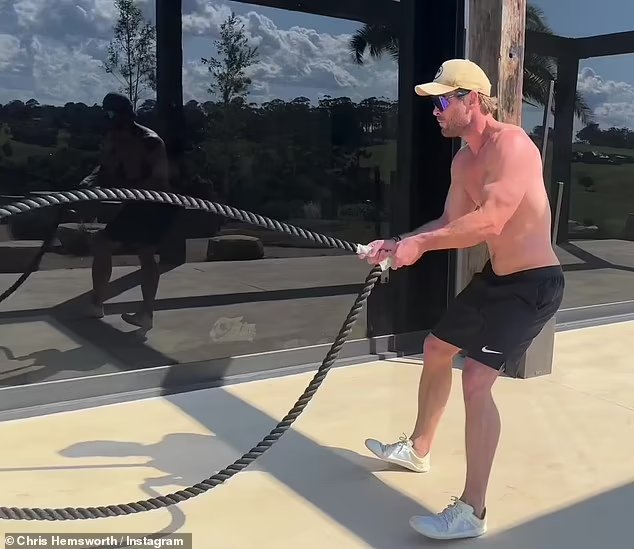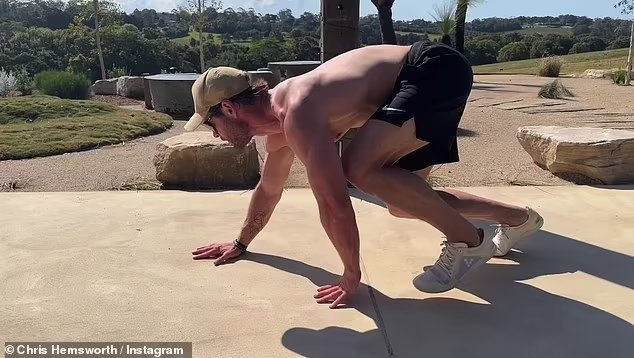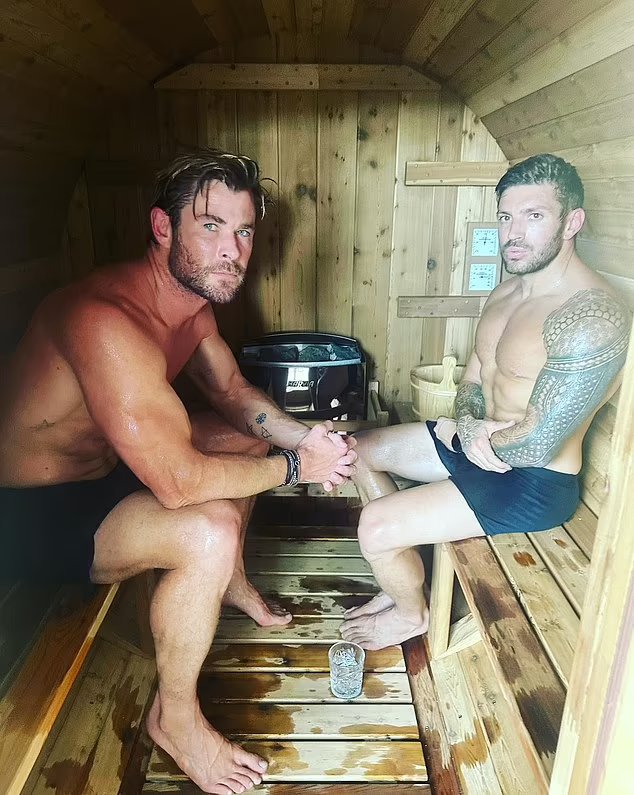 Hemsworth's August 25th Instagram post showing off his full body workout routine comes a few days after he shared another post on the social media platform of himself enjoying an ice bath with his personal trainer Luke Zocchi.
'No better way to finish a workout. Combining a sauna with an ice bath is an effective way to improve circulation, reduce inflammation, speed up muscle recovery and elevate your mood. The heat from the sauna causes blood vessels to dilate, which improves blood flow and reduces inflammation,' Hemsworth wrote in the lengthy caption of his August 22 Instagram post.
'The cold from the ice bath causes blood vessels to constrict, which improves circulation and reduces muscle soreness. This contrast between hot and cold temperatures helps to improve overall recovery and reduce the risk of injury.'
The first piece of content in the post showed Hemsworth and Zocchi flaunting their ripped physiques during a chilly bonding session.
Then, in a video that was also included in the Thor star's Instagram post, he is seen showing off his washboard abs in a sauna, before taking the plunge in a rustic wooden tub filled with ice alongside Luke.
By: BRIANNA OARD
Originally published at Daily mail
---
For enquiries, product placements, sponsorships, and collaborations, connect with us at

[email protected]

. We'd love to hear from you!
---
Our humans need coffee too! Your support is highly appreciated, thank you!