Dan Flavin, untitled 1976, red, yellow, and blue fluorescent light (Image credit: © 2023 Stephen Flavin/Artists Rights Society (ARS), New York Courtesy David Zwirner)
Narrowing down your London art exhibitions must-see list is rarely easy, even in the quieter months on the art calendar. As winter approaches, stay up-to-date with our guide to the best shows around the city.
---
London art exhibitions
---
Joseph Yaeger: 'Time Weft'
The Perimeter
Until 18 February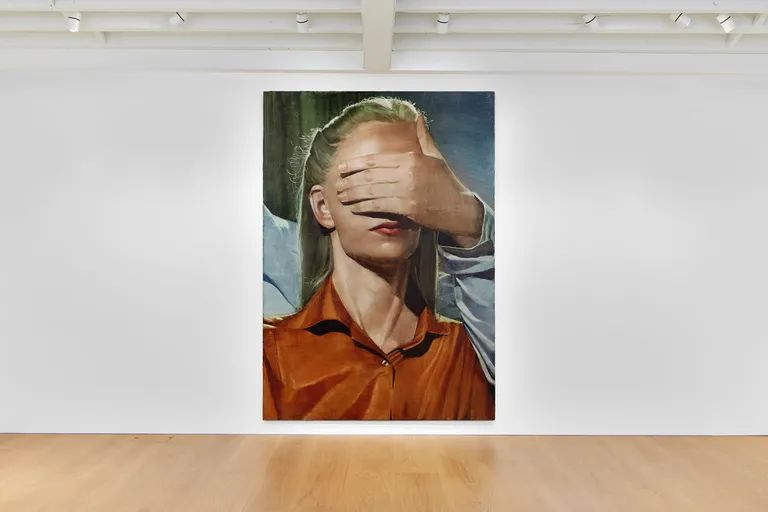 Joseph Yaeger's exhibition at The Perimeter focuses on the distortion of space and time, examining the notion of the 'weft', (the past tense of 'weave'). Yaeger's work explores the fetishisation of contemporary desire. These cinematic paintings, which allude to, rather than describe, range from colossal to intimate and play on recognition and déjà vu. In some cases, viewers are urged to fill in the gaps, and imagine what sits just outside the frame – what lurks beyond perhaps more ominous.
Writer: Saskia Koopman
Open by appointment. theperimeter.co.uk(opens in new tab)
Dan Flavin: 'Colored fluorescent light'
David Zwirner
Until 1 February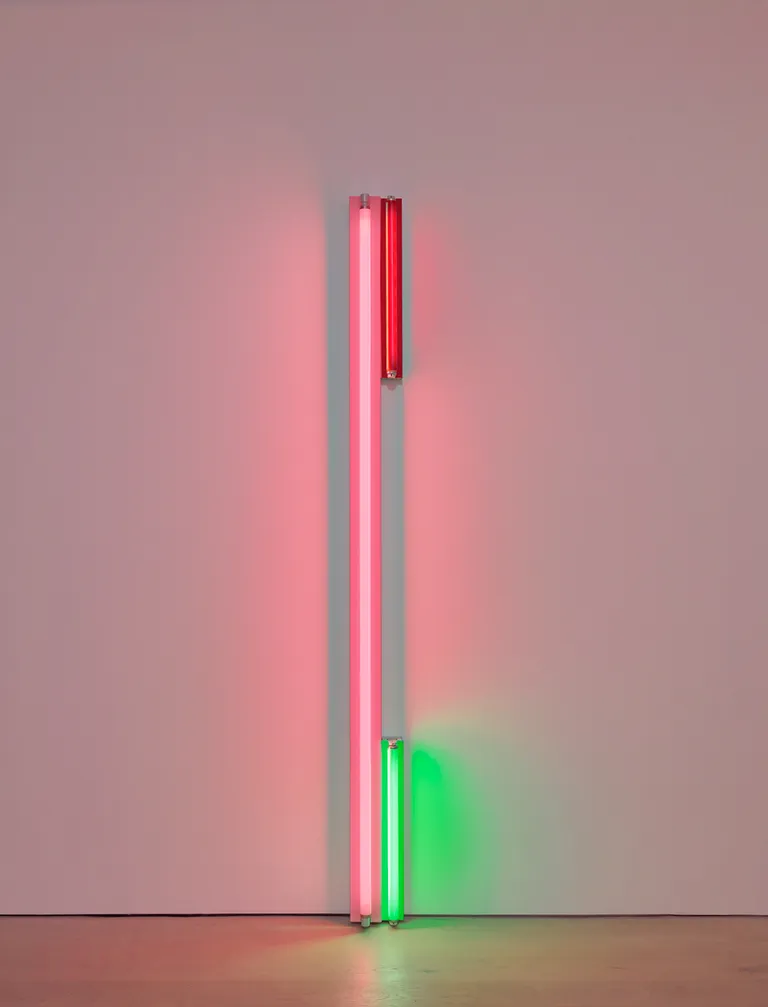 David Zwirner presents the first major presentation of Flavin's work since 2006, spanning the three decades of his career. Coinciding with a show at David Zwirner New York, the London exhibition showcases the artist's fluorescent neon sculptures, which drench the gallery in mesmerising colour, and explore the relationship between sources of light and their impact on the surrounding environment. The intense, industrial configurations vary in size and colour, and represent the blurry line between art and architecture.
Writer: Saskia Koopman
davidzwirner.com(opens in new tab)
Lynette Yiadom-Boakye:' Fly In League With The Night'
Tate Britain
Until 26 February
In December 2020, Yiadom-Boakye's epic Tate show was forced to close after just two weeks due to pandemic restrictions. Fortunately, the artist's major show has now returned to Tate Britain, spanning 70 works created over two decades. Inspired by fictional characters, her portraits invite visitors to offer their own interpretations of identity and representation. Her use of gestural brushstrokes and dark, sultry tones are echoed in her poetic titles, drawing viewers into their mystery.
Writer: Saskia Koopman
tate.org.uk(opens in new tab)
Jonathan Baldock
Stephen Friedman
20 January – 25 February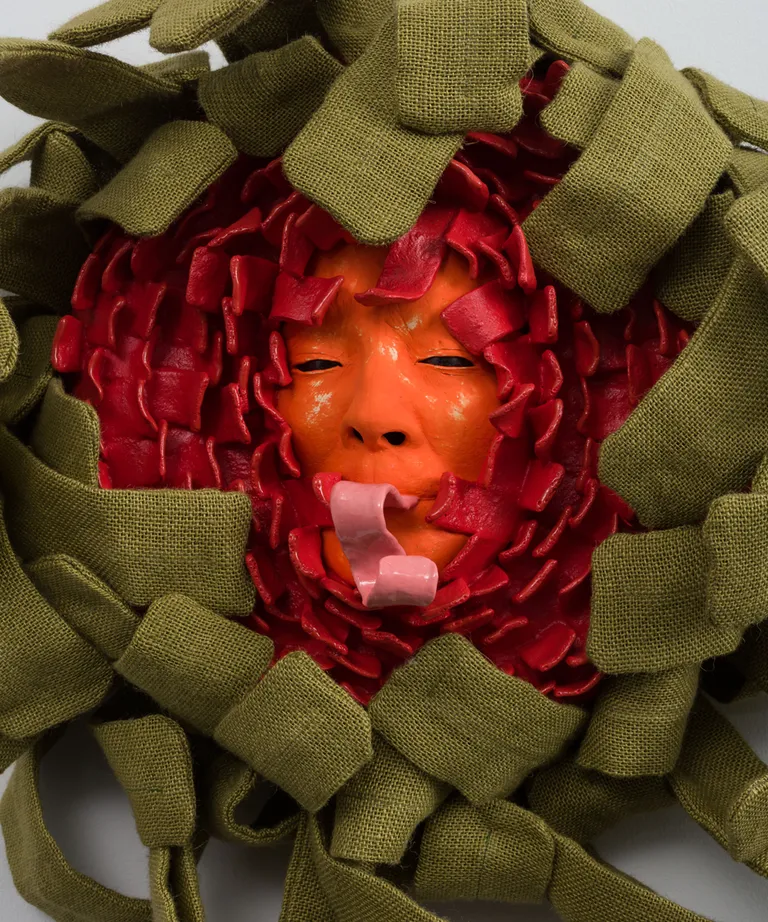 Jonathan Baldock's work employs ceramic art, installation and performance to explore our relationship with the human body, and the spaces it inhabits. Baldock's show at Stephen Friedman, inspired by his mother, will transform the gallery into a vibrant garden, filled with monstrous flowers and sculptures infused with motifs of plants and leaves. Embedded with playful humour, his work questions function, and asks the viewer to reflect on the trauma and spirituality that surrounds our relationship with the body.
Writer: Saskia Koopman
stephenfriedman.com(opens in new tab)
Kenneth Noland: 'Stripes/Plaids/Shapes'
Pace Gallery
25 January – 4 March
Kenneth Noland's 'Stripes/Plaids/Shapes' surveys canvases from a pivotal period in the late American abstract artist's extraordinary career, during which he became a founding member of the Washington Color School. This exhibition will showcase the development of his work, from his Stripe paintings of the late 1960s, through to his Shape canvases in the early '80s. 'Stripes/ Plaids/ Shapes' will demonstrate his commitment to line, shape and colour – their intertwining relationships and emotional potential.
Writer: Saskia Koopman
pacegallery.com(opens in new tab)
David Altmejd
White Cube Mason's Yard
Until 21 January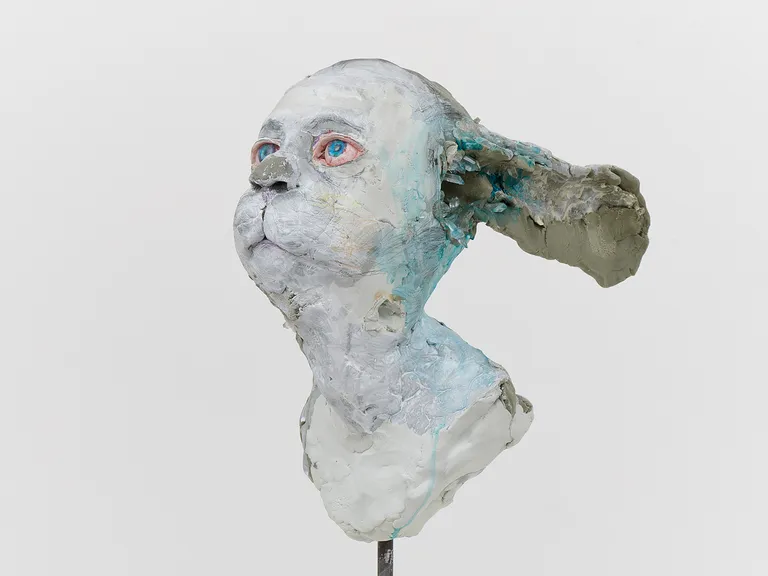 Canadian sculptor David Altmejd creates surreal animalistic constructions of humanity at the White Cube. In the show, the ears of a hare are placed on variations of the human form, internal organs are presented in nooks of body parts and distorted busts of characters look on. Altmejd's work draws on the collective unconscious; here he represents 'Trickster'; a character repeated through our literature, art and dreams, pointing to our shared ancestral memories, and common humanity.
whitecube.com(opens in new tab)
'Bloomberg New Contemporaries 2022'
South London Gallery
Until 12 March 2023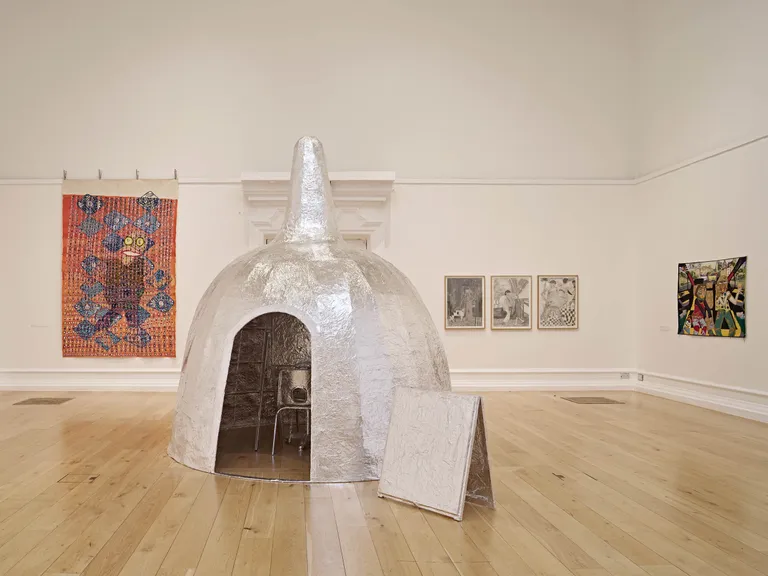 Bloomberg New Contemporaries' long-standing presentation of emerging artists is returning to the space in Peckham for its fifth consecutive year, this time featuring work from 47 artists. Selected from an open call, the group were whittled down from 1,500 entries for a show that explores portraiture; communication and disconnection; spirituality and mysticism; repurposing and retro-futurism; and reclaiming spaces.
southlondongallery.org(opens in new tab)
Zadie Xa: 'House Gods, Animal Guides and Five Ways 2 Forgiveness'
Whitechapel Gallery
Until 30 April 2023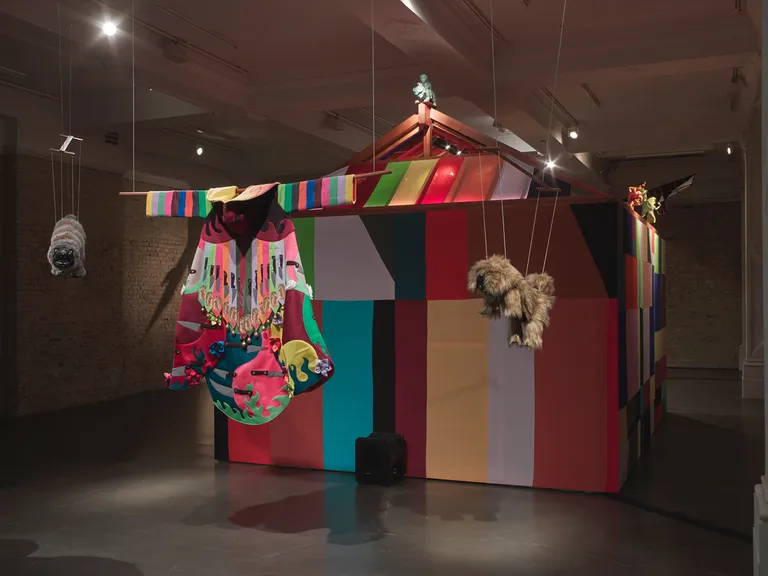 Through this site-specific, immersive installation, Korean-Canadian artist Zadie Xa uses sculpture, textile, and painting to explore interconnected histories, legacies and societies. Alongside suspended marionettes, sculptures and textile works, Xa has collaborated with artist Benito Mayor Vallejo to craft a house from wooden frames and hand-dyed patchwork linen, in response to the architecture and history of Whitechapel Gallery, and in dialogue with Korean mythology and tradition.
whitechapelgallery.org(opens in new tab)
'Interior'
Michael Werner Gallery
Until 4 February 2023
Curated by Andrew Bonacina, new paintings, sculptures and ceramics are presented in a group show at Michael Werner Gallery. From vibrant colour scapes by Walter Price to the distorted meditations on personhood depicted by Frank Auerbach, the show explores the internal world of the work's subjects. Including wide-ranging generational and creative approaches, the show delves confidently into the medium of portraiture and its potential.
michaelwerner.com(opens in new tab)
Sculpture in the City
City of London
Until 30 April 2023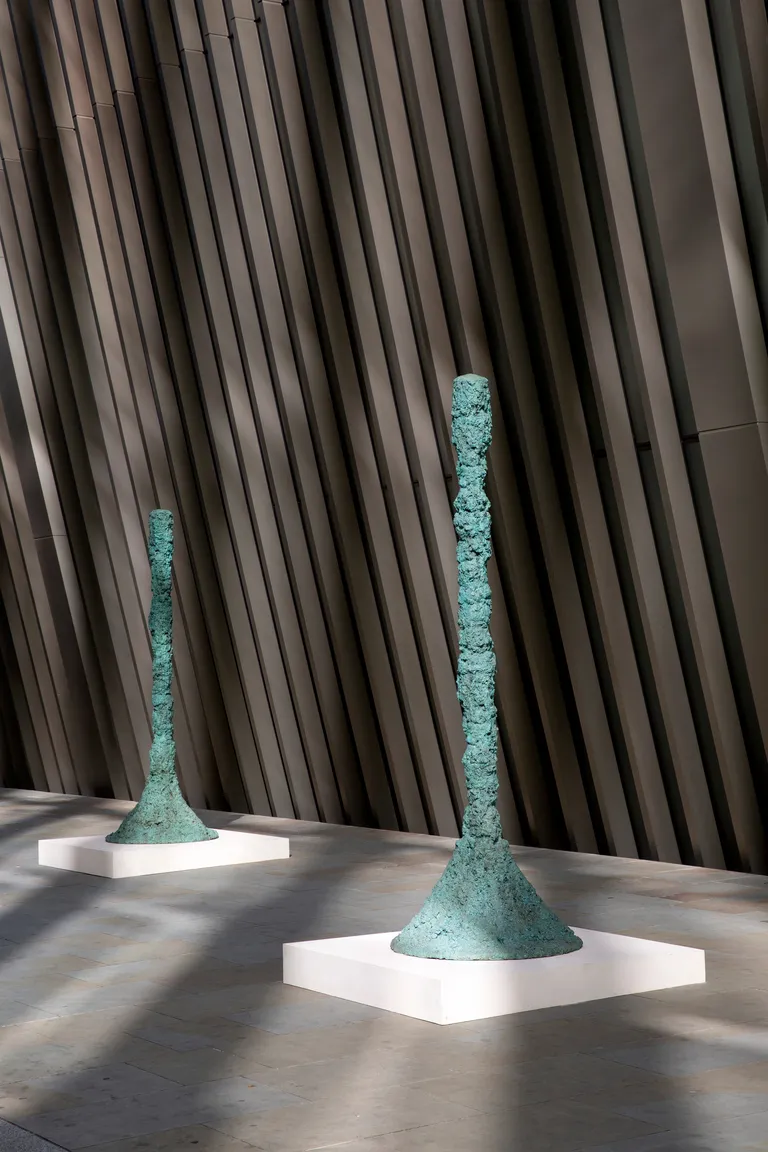 For its 11th edition, Sculpture in the City takes adorns the streets of the financial district with twisting white trees by Ugo Rondinone, Victor Seaward's vibrant nests, which hang inconspicuously in trees, and an abstract sculpture by Emma Louise Moore, which becomes translucent when hit by the sun's rays. Overall, 20 sculptures will be on display, with six having remained in situ from last year's edition.
Tschabalala Self
Coal Drops Yard sculpture
Until 31 January 2023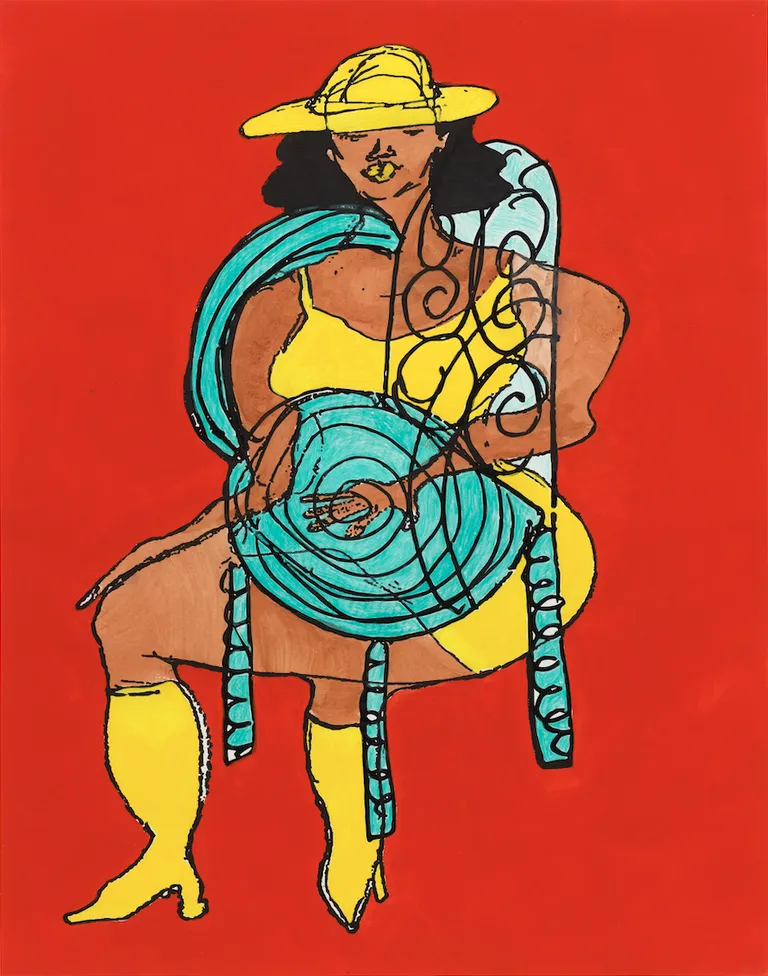 In her first public art commission, American artist Tschabalala Self will present a large-scale bronze sculpture (her first public artwork commissioned by Avant Arte), alongside a pop-up space with limited edition sculptures, silkscreen prints and a new film with individual responses to the ideas tackled in the sculpture. The installation will be staged on Lewis Cubitt Square, at the northern gateway to the Thomas Heatherwick-designed Coal Drops Yard complex. From 6 October – 17 December, Self will also present 'Home Body', a solo show at Pilar Corrias gallery, which will feature paintings, works on paper, furniture and sculpture investigating domestic space.
Christopher Kulendran Thomas: 'Another World'
Institute of Contemporary Arts (ICA)
Until 22 January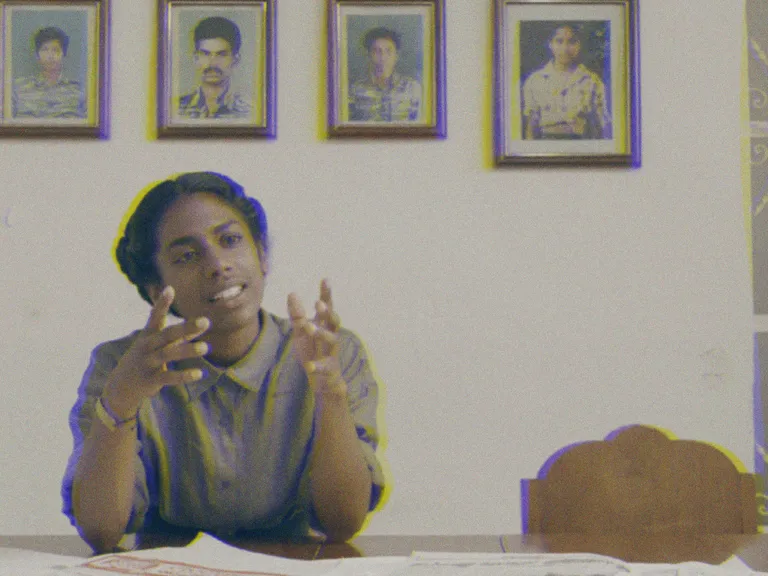 British-Tamil artist Christopher Kulendran Thomas' 'Another World' displays a series of newly-commissioned paintings created by AI algorithms alongside two video installations. Each meditates on the lost legacies of the Sri Lankan civil war, which ended in 2009 with the eradication of Tamil Eelam, a self-governed online liberation movement.
Barbara Chase-Riboud: 'Infinite Folds'
Serpentine
Until 29 January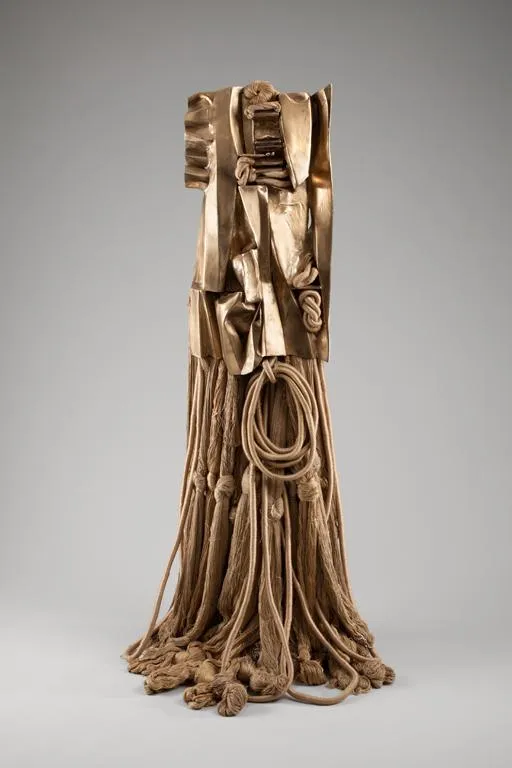 In a major new show, American sculptor, novelist and poet Barbara Chase Riboud will present a portfolio of works unifying, yet opposing forces. The show, consisting of large-scale sculptures and works on paper from the 1960s to the present day, celebrates the legacy of Malcolm X, takes inspiration from Egyptian Pharaohs and explores 'power as wielded by women throughout the ages,' as the artist notes.
---
Art exhibitions around the UK
---
Cerith Wyn Evans: '….)('
Mostyn, Llandudno, Wales
Until 5 February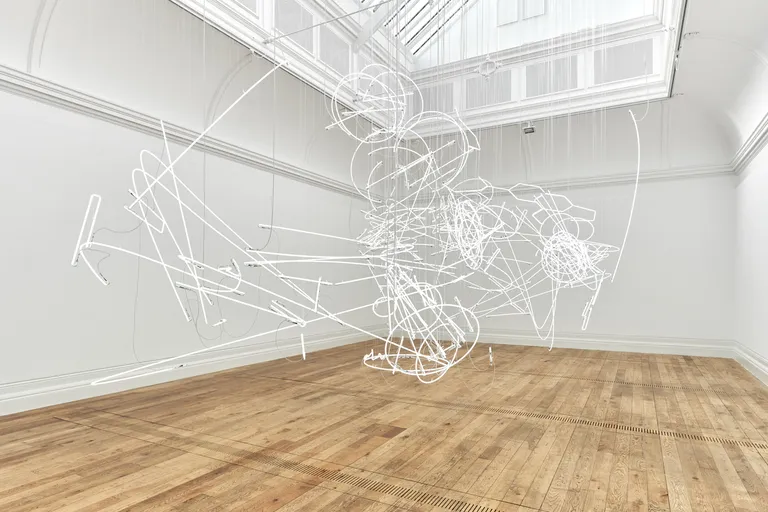 At Mostyn gallery in the picturesque seaside town of Llandudno, Wales, Cerith Wyn Evans is currently showing his largest exhibition in his home country, and the UK, to date. The show, curated by the gallery's director, Alfredo Cramerotti, is borderless –infused with film, music, poetry, literature and Eastern philosophy, and how energy can flow freely through sculpture, notably in the artist's iconic neon works. 'I love nothing more than neon in direct sunlight, he told us in an interview for the show. It's absolutely heartbreakingly beautiful.'
mostyn.org(opens in new tab)
Turner Prize Exhibition
Tate Liverpool
Until 19 March 2023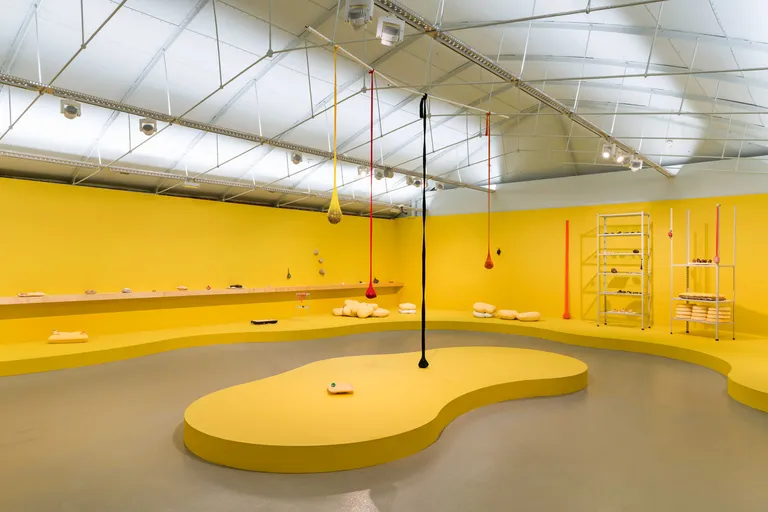 Veronica Ryan has been announced as the winner of the Turner Prize 2022, with the exhibition being held at Tate Liverpool until 19 March 2023. Alongside Ryan, the three runners up include Ingrid Pollard, Sin Wai Kin and Heather Phillipson. Across the seven rooms of the gallery's top floor are the artists' immersive and colourful inquiries into race, gender and maternalism.
Elizabeth Price: 'Underfoot'
The Hunterian, Glasgow
Until 16 April 2023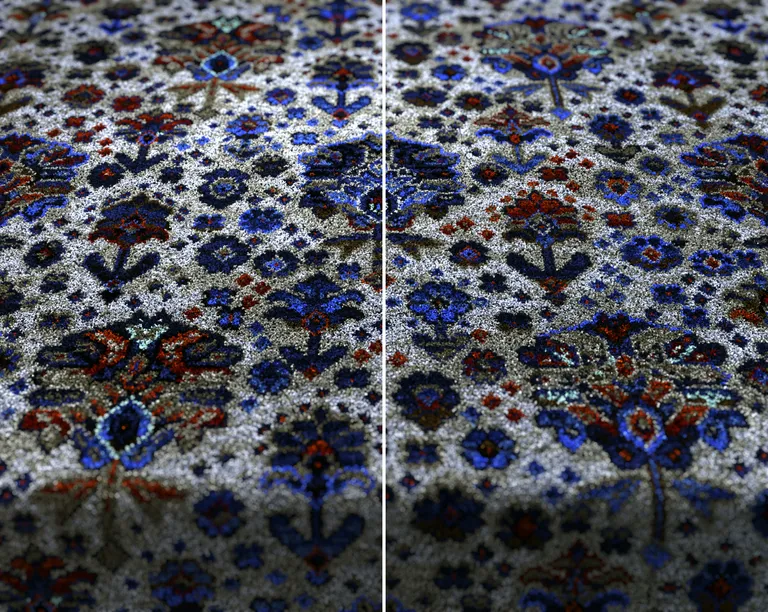 Turner Prize winner Elizabeth Price is opening the reflecting on the history of textile production in Glasgow during the industrial age, in both familiar and previously unexplored mediums. Using established carpet manufacturers Stoddard International and James Templeton & Co. as a starting point, Price presents a moving image work (and the titular piece for the show), as well as a hand-tufted rug, inspired by photographic records and archival pattern books. Alongside the show, The Hunterian and Glasgow School of Art are holding talks through the exhibition's run, as well as during a two-day conference.
By Martha Elliott, Harriet Lloyd Smith
Source Wallpaper