Ready to touch your toes?
Look, if there's one thing that I've taken away from the pandemic, it's that you can do almost anything from the comfort of your own home—including fitting in a quick flow before a Zoom meeting thanks to the many, many, (many) yoga apps out there.
Since the much-loved form of exercise is an easy way to de-stress and stretch out sore muscles, I'm not going to let decision fatigue turn you off from becoming your best yoga-loving self. Instead, just peep through this curated list of the best yoga apps that you can download on your iPhone or Android. It's been made with love thanks to a combo of stellar reviews, overall rankings, aaaand price!
If you're still feeling meh about hitting up an in-person studio (I get it!), want to graduate from watching YouTube yoga workouts, or just generally like getting sweaty in private (lol, sorry not sorry), these yoga apps were made for you. Happy posing!
1. If you are looking for a more structured routine:
TRACK YOGA
Track yoga is great for, well, staying on track with your yoga routine! It offers a wide variety of classes tailored to improve your mental health, de-stress and work on your flexibility. It's super beginner-friendly and with its point system, you can unlock premium content by frequently using the app and meeting your goals.
2. If you want something with variety:
PELOTON APP
You may be familiar with Peloton's killer spin classes (and influencer instructors), but its yoga courses stand out the most. The classes are streamed live from the New York City studios, so it's basically like you're there IRL. Something else we love: The app offers a 30-day free trial before you need to sign up for a membership.
3. If you want to increase your flexibility:
LOTUS YOGA
Free download with in-app purchases on the App Store and Google Play
While the highly-rated app is specifically designed to help you with your flexibility, it has SO many other great features. You can set up a yoga plan anywhere from five days to six weeks while also bopping along to some v solid Spotify playlists.
4. If you want to clear your mind:
UNIVERSAL BREATHING–PRANAYAMA LITE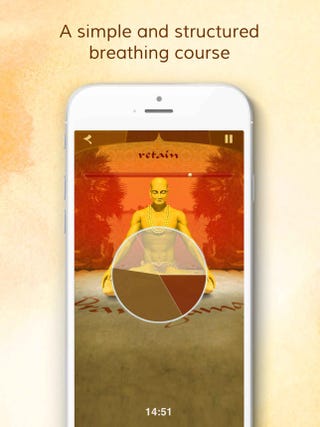 Free on the App Store or $4.99 on Google Play
If you're more into the zen and breathing side of yoga, this app offers a series of exercises that'll help you with that. The exercises are synced with music (and fun animations) to show you how to breathe properly to relax your mind with meditation. Each session lasts 15 minutes.
5. If you need some zen in your life:
LIBERATE
Free to download and $9.99/month or $71.99/year for a subscription on the App Store and Google Play
If you're actually looking to begin a daily meditation routine and not just the occasional breath exercise, this app will change your life. Featuring a series of 260+ sessions led by teachers of color, you can tailor your experience to help with anxiety, stress, depression, sleep issues, and more. All sessions are less than 25 minutes so you can fit it in whenever you want!
6. If you need something that's easy AF to follow:
SWORKIT