Every time referee Nestor Pitana saw Alexis Mac Allister running in his direction to complain about some decision, he would make the same joke to try to calm the Argentinos Juniors youngster down.
"You remind me of [Lionel] Messi," Pitana, who refereed the 2018 World Cup final, would say.
"Only for the beard and the haircut…" Mac Allister would reply, laughing.
Mac Allister's talent may not be comparable with Messi's – whose is? – but his undoubted ability has been apparent since the early days, when he made his debut aged 17 in Argentina's second tier with Buenos Aires side Argentinos in October 2016.
The versatile midfielder helped secure promotion later that season, paving the way for a meteoric rise that saw him take his boyhood team to continental football and become the club's second biggest sale ever when Brighton came knocking with an £8m offer in early 2019.
Fame, however, didn't immediately arrive and, until not so long ago, he could still walk largely unnoticed back home.
A quiet and down-to-earth man, Mac Allister said that this time last year, before the World Cup, when he travelled to his birth town of La Pampa only "a couple of people" approached him for a picture.
However, when he returned after helping Argentina win the 2022 World Cup, 15,000 fans were waiting for him.
Things have certainly changed for the 24-year-old and will continue to do so now he has signed for Liverpool in a £55m deal.
'He was destined to reach the very top'
For those who have been there since the beginning, it feels like he is fulfilling his destiny with the move to Anfield.
"At the time [he joined Brighton], I told him – and he can confirm it – that I wouldn't ask him for a Brighton jersey or anything else," Argentinos general manager Alejandro Roncoroni told BBC Sport.
"The only thing that I wanted was for him to invite me for the day he made his debut for Real Madrid or a team of the same level. Because he was destined to reach the very top."
Four years later, the boy who "never hides on the pitch" has reached football's elite and will now play a key role in Liverpool's rebuilding process.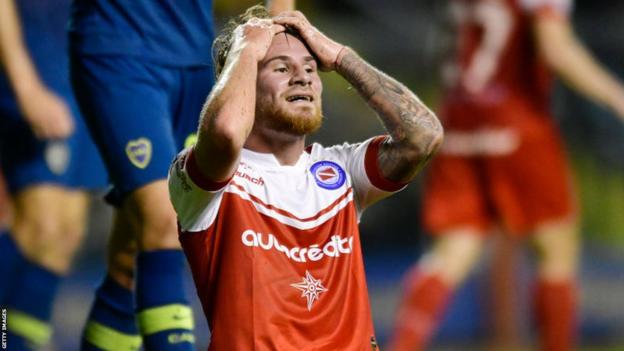 Born to be a footballer
Mac Allister, whose ancestors came from Ireland, was born to be a footballer.
His father, Carlos, lined up alongside Diego Maradona for Argentina, his uncle Patricio played for Estudiantes de La Plata and his brothers, Francis and Kevin, currently feature for Rosario Central and Argentinos respectively. They even have their own side back home, Deportivo Mac Allister.
While still a youngster, the Reds' new midfield maestro even helped his dad with the scouting reports he prepared for Spanish side Osasuna.
It was no surprise when he joined Argentinos at the age of 12 and started marking waves right away for a team that is known as the 'world's nursery' and has produced the likes of Fernando Redondo, Juan Roman Riquelme, Esteban Cambiasso, Fabricio Coloccini and, of course, Maradona.
"I remember taking my kids to the club every Saturday and watching him play. He would always stand out," said general manager Roncoroni.
Mac Allister made his first senior appearance under former international defender Gabriel Heinze, who he regards as the coach who has brought the best out of him and taught him the game.
'Get into the box, get into the box!'
Having played a prominent part as Brighton secured European football for the first time in their 122-year history, he finished the last campaign with 12 goals in 40 matches.
It was the most prolific season of his career so far – and his father Carlos would have been proud.
During youth matches he would often yell from the stands for his son to "get into the box". Mac Allister hated it back then, but after hearing it so much he admits it has influenced his playing style.
Able to play in different roles ranging from defensive midfielder to operating behind the forwards, as well as central midfield, he will provide a breath of fresh air for Liverpool's midfield.
"A technically gifted player like him can adapt to any position. He will always have the qualities of a number 10 (attacking midfielder), but with his intelligence and versatility he's able to adjust to any task he's asked to," explained Cristian Zermatten, one of his earliest mentors.
"No matter where he plays, he will do it [in the style of] a number 10 because at the end of the day that's how he feels football."
It will now be up to Reds boss Jurgen Klopp to take Mac Allister to another level – and Roncoroni has no doubt he is heading to the best club for that.
"After all, they have the same colours from where he was born," he said.
Originally appeared in BBC Sport
---
For enquiries, product placements, sponsorships, and collaborations, connect with us at

[email protected]

. We'd love to hear from you!
---
Our humans need coffee too! Your support is highly appreciated, thank you!