The Gossip Girl alum is swooning!
There's a heatwave on the horizon, and it's got nothing to do with the weather! Blake Lively, 35, is swooning over husband Ryan Reynolds' sizzling summer physique, and she's sharing the heat with all of her followers.
The Gossip Girl alum recently took to social media to rave about her 46-year-old hubby, after he shared a picture flaunting his robust biceps in a sleeveless shirt.
"Summer in New York makes me sorry for the way I treated winter in New York," quipped the Free Guy actor, charmingly sporting a white tank and khakis in a picturesque New York park.
His wife who was behind the lens for this photo, couldn't resist reposting the snap, playfully adding emojis of sriracha sauce, a pepper, and a "Caution: Extra Spicy" sign — a sassy nod to her husband's fiery form.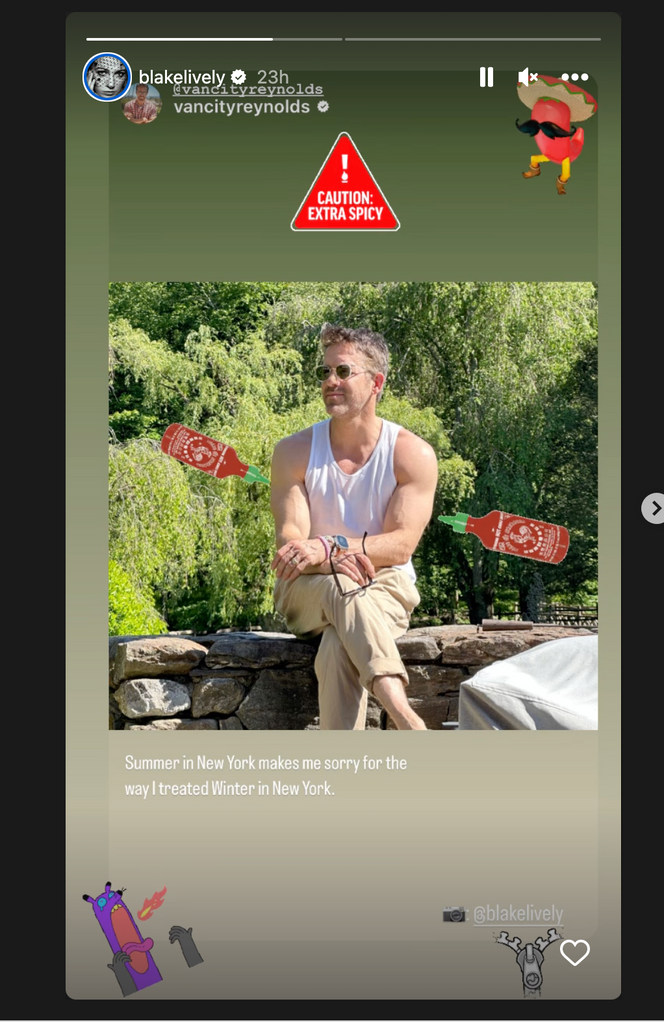 Blake reposted an image of her husband Ryan showcasing his biceps.
This adoring duo, who wed in 2012, are proud parents to daughters James, 8, Inez, 6, Betty, 3, and a fourth child whose name they've kept under wraps since welcoming earlier this year. Amid their bustling household, the couple manages to maintain a lively presence on social media, often sharing their support for one another and partaking in affectionate ribbing.
Known for her role in A Simple Favor, Blake isn't shy about teasing her husband, be it over his amateur motorbike skills or his flex-worthy, turtle-rescue heroics. "Are we supposed to believe this isn't a post about your fine ass arms?" she cheekily commented on an Instagram post where Ryan shared an image of a turtle hiding under his car.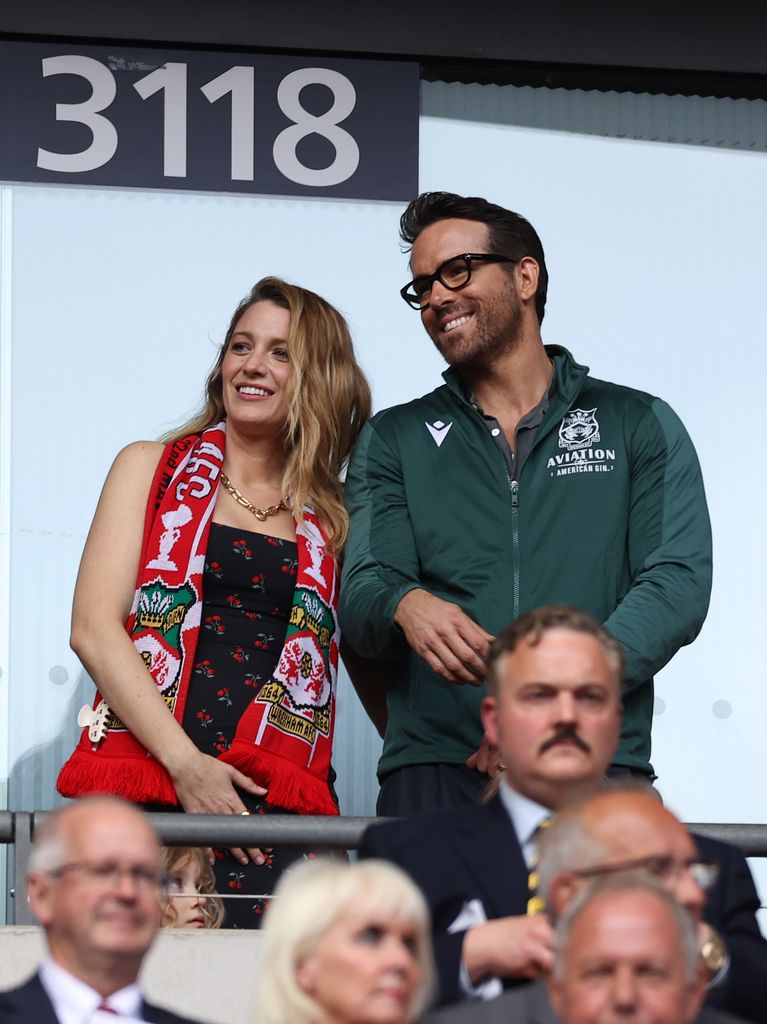 Blake and Ryan have reportedly bought a home near Wrexham
In the midst of this rescue mission, the actor's muscular arms were hard to miss, a fact Blake cheekily highlighted in her Instagram stories, even adding a 'whipped cream and cherry' GIF for effect. But her playful banter isn't confined to her husband's fitness regimen.
When Ryan, the co-founder of Mint Mobile, produced a music video for his friend Rob McElhenney — co-owner of the Wrexham A.F.C. soccer team — in April 2023, Blake showcased a hint of envy. "Wow. That's a lot of effort you put into this," she teased on Instagram, adding a side-eye emoji and eagerly looking forward to her celebration on August 25th.
In response, Ryan joked: "A birthday card might've been easier." The couple's playful exchanges flow both ways. The Just Friends actor has had his share of lighthearted digs, ribbing his wife for closing her eyes in photos, supernatural infidelity, and even for unfollowing him on Instagram.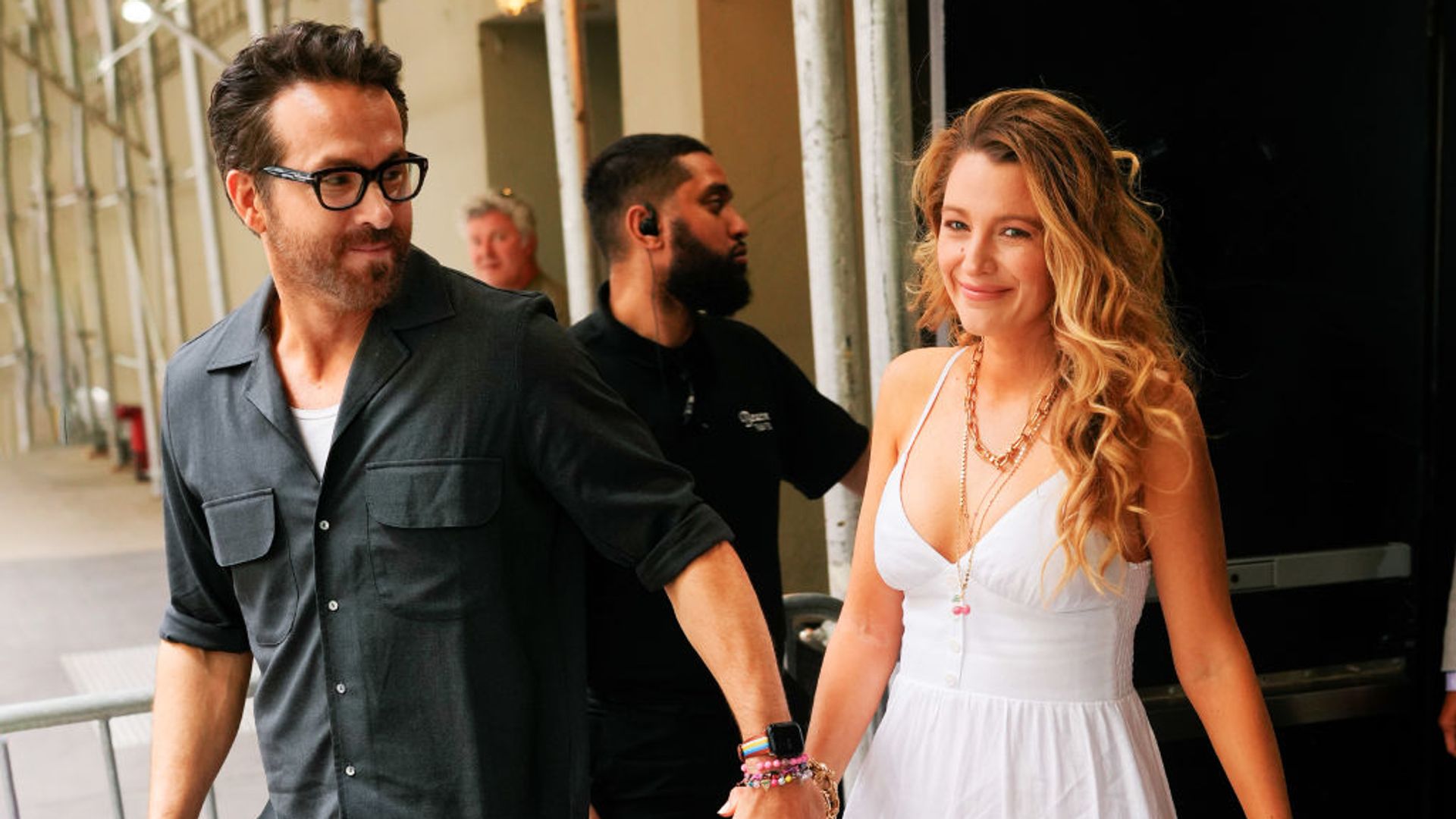 Blake and Ryan started out as friends after working on The Green Lantern in 2010
On a recent episode of the Fearless in Devotion podcast, Ryan hilariously complained about Wrexham AFC player Ollie Palmer's habit of walking shirtless around Blake.
"Every time we've come as a family and stuff, we'll walk down to the locker room, and Ollie's the first guy that walks out of that dressing room completely shirtless to have a conversation with my wife," the Deadpool actor laughingly revealed, "I'm always like, 'Ollie, put a shirt on and come back out like a gentleman.'"
Originally sourced from hellomagazine.
---
For enquiries, product placements, sponsorships, and collaborations, connect with us at

[email protected]

. We'd love to hear from you!
---
Our humans need coffee too! Your support is highly appreciated, thank you!