A university library is more often associated with wall-to-wall carpeting, bad fluorescent lighting, and decades-old pilled sofas than with eye-catching design by some of the world's most renowned architects. That said, there are more than a few university libraries with impressive design elements—whether it's original 15th-century Tudor ceilings or cast iron balconies—that are making students actually want to spend a few late nights in the stacks.
For centuries, some academic institutions have spent a good deal of resources to ensure their libraries inspire their students. At the University of Chicago, for example, school officials tapped world-renowned German American architect Helmut Jahn to construct their newest library. Others, namely in the United Kingdom, are much older, reflecting the styles in vogue when they were built. From the traditional-style libraries at Queen's College, at Oxford University, to the sleek modern structure at Loyola University in Chicago, AD surveys 26 of the most beautiful college libraries from around the world.
1. University of Pennsylvania
Completed in 1891 by architect Frank Furness, the Fisher Fine Arts Library at the University of Pennsylvania was added to the National Register of Historic Places in 1972 and became a National Historic Landmark 13 years later. The following year, the library launched a four-year, $16.5 million restoration led by a team that included Venturi, Scott Brown, Clio Group, and Marianna Thomas Architects.
2. Oxford University
Duke Humfrey's Library at Oxford University is top of mind when it comes to historical libraries. Built in 1488, the Tudor-style reading room is the oldest part of the Bodleian Library, a group of five buildings that range in date from the late medieval period to the early 20th century. There's something about this particular reading room that feels utterly transportive—maybe it's the centuries-old coffered ceiling or maybe it's the 281 books donated by the library's namesake, Humphrey of Lancaster, First Duke of Gloucester, after his death in 1477. 
3. University of Washington
Though it looks straight out of the Old World, the Gothic-style Suzzallo Library at the University of Washington was actually designed by Seattle architects Carl F. Gould Sr. and Charles H. Bebb, in 1922. When he became the university's president, in 1915, Henry Suzzallo wanted to build a new library that was to be "the soul of the university," he said. It opened in 1926 and was named after the man who envisioned it following his death, in 1933.
4. Johns Hopkins University
Johns Hopkins University enlisted local Baltimore architect Edmund G. Lind to design the Peabody Library, which opened in 1878. Lind had some help, though; he created the stately multifloor library in collaboration with Johns Hopkins University's first provost, Nathaniel H. Morison. Together, their creation is a masterpiece, with a central atrium that rises 61 feet and features five tiers of cast iron balconies. The duo was all about the drama, and it paid off.
5. Oxford University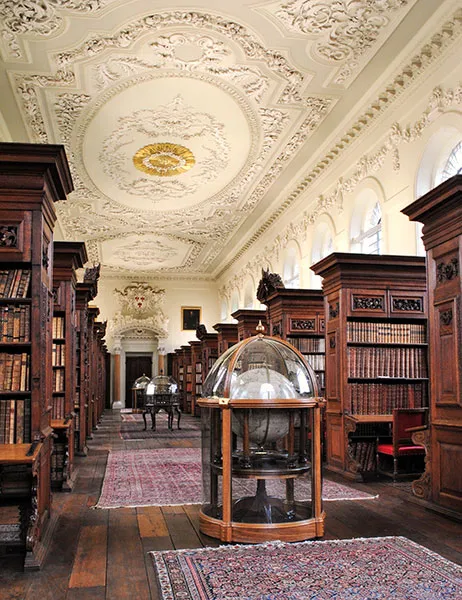 Since Oxford University was established in 1096, the esteemed English institution has seemingly added libraries to its campus every few years. One of the most beautiful is the Queen's College Library, which was built between 1692 and 1695 by an unknown architect—although research indicates that credit should go to Henry Aldrich, then-dean of Christ Church, who designed other buildings in Oxford, or Timothy Halton, the provost of the Queen's College at the time the library was built. Two of the library's earliest benefactors include Bishop Thomas Barlow, who served as provost of the college from 1658 to 1677, and, later, Queen Caroline of Ansbach. As a token of gratitude, the university built a statue of the royal over the gateway.
6. University of Chicago
Since its completion in 2011, the domed glass design of the University of Chicago's Joe and Rika Mansueto Library has received numerous awards, including the GE Edison Award of Merit. Architect Helmut Jahn included solar-controlled glass overhead while ensuring ample interior space for University of Chicago students to utilize while studying.
7. Lehigh University
Opened in 1877, the Linderman Library was designed by Philadelphia architect Addison Hutton, who modeled the Venetian-style architecture after the British Museum, in London. Using a Potsdam sandstone with granite ornamentation, Hutton added a touch of ornamentation by way of a massive stained glass, which casts a hue of rich tones on the rotunda beneath it.
8. Cornell University
Born in 1848, two hours outside of Cornell University, architect William Henry Miller was a student at Cornell University between 1868 and 1870, one year before the College of Architecture was established. To honor Miller, who designed an impressive collection of buildings on campus, Cornell referred to him as the university's first student of architecture. Cornell also hung his portrait in the lobby of the Uris Library, another one of Miller's projects.
9. The University of California, Los Angeles
Constructed between 1924 and 1926 by architect Robert D. Farquhar, the William Andrews Clark Memorial Library was financed by philanthropist William Andrews Clark Jr. (who also founded the Los Angeles Philharmonic) to house his growing collection of rare books. It may look more like a Gilded Age mansion than a library, but the Clark, as it's known among locals and students, but it houses around 10,000 books and 22,000 manuscripts.
10. University of Salamanca
The Biblioteca General Histórica (Historical Library) is the oldest library at the University of Salamanca and is home to a selection of books and manuscripts that live up to the library's name. Some, including the Liber Canticorum of Queen Doña Sancha and the Book of Good Love by the Archpriest of Hita, go as far back as the 11th and 13th centuries. Compared to its impressive collection of books, the library is relatively new, built in the 16th century within the upper cloister of the Escuelas Mayores.
Source link.