The Marvel Cinematic Universe (MCU) is renowned for its unique creatures and environments, but they are rarely fully realized until post-production. This, in turn, requires the actors to create a mental picture of their scene partners and surroundings.
Marvel Studios' Thor: Love and Thunder, however, changed that.
Now playing exclusively in theaters, Thor: Love and Thunder is the first MCU film to employ a new technology, The Volume, which surrounds the actors in a 360-degree digital environment, rather than filming them against a blue or green screen. Digital landscapes are about 90 percent completed, then fine-tuned with live-action elements. The technology was previously developed by Industrial Light & Magic (ILM) to serve as an end-to-end solution supporting all aspects of virtual production. ILM StageCraft has been used in several Disney+ Original series, including The Mandalorian and Obi-Wan Kenobi. As Thor: Love and Thunder executive producer Brian Chapek explains, "It allows you to create fully immersive worlds and to create a seamless effect between the real world and the digital world."
Chris Hemsworth, who stars as Thor and serves as an executive producer, says The Volume made for an "incredible" filming experience. "If you're standing on the edge of a cliff looking out at a sunset, to actually be staring into a sunset certainly pulls out emotions and reactions that you may not get using a blue or green screen. It's visually stunning because you get the actual reflection off the background, a nice orange glow on your skin from the sun," Hemsworth says. "It's a beautiful interaction that occurs."
Like Hemsworth, Tessa Thompson, who plays King Valkyrie, found that The Volume provided creative freedom. "The Volume makes it easier because you don't have to imagine what you're seeing," she says. "You're looking at it, and it's beautiful. The way that it cast light onto our faces and costumes felt really immersive and otherworldly."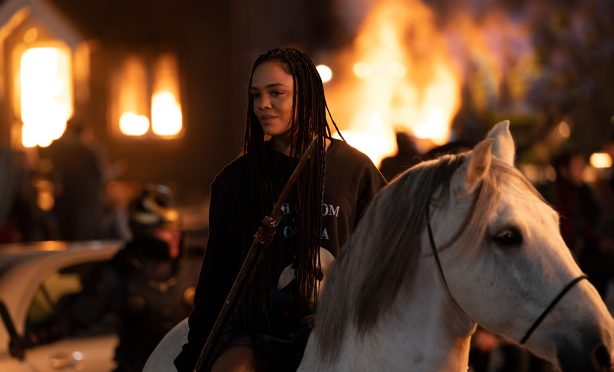 It helped that Thor: Love and Thunder's director of photography, Baz Idoine, had firsthand knowledge of The Volume, from his time working on The Mandalorian, which also utilized the technology. Idoine worked in tandem with Jake Morrison, visual effects supervisor/second unit director, to perfect the film's sweeping, breathtaking digital sets. "The Volume helped us create massive scales for the film," recalls Morrison, who has worked on every Thor movie since 2011. "One of the biggest Volume sets was Omnipotence City, the home of the gods. When all the actors were in The Volume, they were able to see this incredibly expansive world. It sets the stage for the adventure that the characters are on."
However, for some scenes in Thor: Love & Thunder, real-life sets still needed to be constructed. "During pre-production, we would decide whether it was a set to build physically or digitally," Morrison shares. "At the beginning of the process, I explained to Nigel Phelps, our production designer, that he shouldn't think of it as anything different to his normal process. He should design the sets as he would normally do."
"As great as technology is, you can never replace standing in a fully immersive, physical set," adds Chapek. "One of the most impressive sets we created was New Asgard, which was a complete town. The second you stepped onto it, you would swear you were there in an actual town in Norway."
Thompson agrees, saying, "Every single storefront felt like somewhere you could walk into. It blew me away: the cobblestones, the attention to detail in the tiniest nooks and crannies that the audience might never see. As incredible as it is to see advances in technology, what's exciting is when you can match that with practical work. That was so exciting on Thor: Love and Thunder, because we had cutting-edge technology, but many, many people worked hundreds of hours to make something feel real. That is just incredible to get to work around."
---
For enquiries, product placements, sponsorships, and collaborations, connect with us at

[email protected]

. We'd love to hear from you!
---
Our humans need coffee too! Your support is highly appreciated, thank you!