In 1962, Stan Lee and Jack Kirby introduced the world to Bruce Banner's alter ego, the Hulk. For a while, Bruce was the only Hulk in the Marvel universe, but She-Hulk, Red Hulk, Red She-Hulk, and so many others soon followed in his footsteps, which begs the question: why was Hulk the only one without a Hulk?
In last week's HULK #6, writer Donny Cates and artist Ryan Ottley introduced Titan, the Hulk's Hulk. As amazing as it sounds, even the Hulk has a limit before he reaches his breaking point and transforms into something else. We now know that Hulk is capable of becoming a kaiju-sized creature with untold power. It's too soon to say if Titan has a mind and a persona of his own, but he is clearly one of the most dangerous incarnations of the Hulk to date.
Before we look to the future, though, it's time to revisit some of the other Hulks in the Marvel Universe!
Jennifer Walters
Bruce Banner's cousin, Jennifer Walters, would have died in her first appearance if he hadn't given her an emergency blood transfusion. As seen in THE SAVAGE SHE-HULK (1980) #1, this gave Jennifer her own Hulk persona. 
At first, She-Hulk was a lot like the savage incarnation of Hulk, but over time, Jennifer retained more of her mind and personality in her She-Hulk state. Jennifer has had a rough time over the last few years, including a regression to a more savage iteration of her Hulk, but she is once again in control of herself in the pages of SHE-HULK (2022).
Betty Ross Banner
In hindsight, we should have known Betty Ross would have a Hulk. As established in INCREDIBLE HULK (1968) #162, Betty's close proximity to her future husband, Bruce, gave her an increased tolerance for gamma radiation. That's how M.O.D.O.K. was able to transform her into the Harpy in that same issue. Years later, M.O.D.O.K. and the Intelligencia resurrected Betty as Red She-Hulk. More recently in IMMORTAL HULK, Betty has become Red Harpy, and her gamma-induced transformation is even more grotesque than before.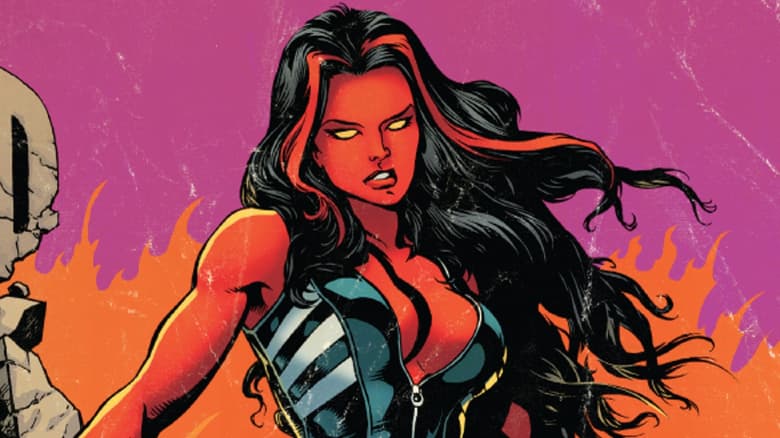 Rick Jones
Without Rick Jones, Bruce Banner would have never become a Hulk. All the way back in INCREDIBLE HULK (1962) #1, Bruce saved Rick's life by tossing him in a ditch before the Gamma Bomb irradiated his body. Perhaps that event made Rick susceptible to gamma radiation as well, because in INCREDIBLE HULK (1968) #324-332, Rick became the second Hulk! He was eventually cured by a procedure that allowed the Leader to reclaim his lost gamma intellect.
Years later, in FALL OF THE HULKS: RED HULK #3, the Leader and M.O.D.O.K. turned Rick into a new version of the Abomination. Fortunately, Rick retained enough of his personality that he became a hero instead of a villain. He also took the codename A-Bomb before he was cured by Hulk's Doc Green persona several months later.
Rick's gamma nightmare resurfaced in IMMORTAL HULK when he was resurrected and forced to become an even more hideous version of the Abomination. Fortunately, as of GAMMA FLIGHT #1-5, Rick is once again a normal human being.
General Thaddeus E. "Thunderbolt" Ross
No one hated Hulk more than his father-in-law, General Ross. That's why it was so surprising when Ross turned out to be the Red Hulk who debuted in HULK (2008) #1. He was also the most obnoxious Hulk to date, and he was even audacious enough to attack the Watcher. Ross' identity as the Red Hulk was a closely guarded secret, helped in part by the mysterious disappearance of his facial hair after transforming. Ross was briefly stripped of his powers by Doc Green, but as of CAPTAIN AMERICA (2018) #26, the Red Hulk is back in action.
Skaar
At first glance, Skaar, the son of Hulk and Caiera the Oldstrong, doesn't appear to have a Hulk – because he is a Hulk! Skaar vowed to hunt down and kill his father in a misguided quest for revenge. In SKAAR: SON OF HULK #11, readers learned he did have a more vulnerable human incarnation that was closer to his true age. In this form, he was just a boy. Skaar and Hulk finally had their big battle in INCREDIBLE HULK (1968) #611, but they were able to overcome their issues, allowing Bruce to embrace his son for the first time.
Like several others on this list, Skaar was briefly depowered by Banner's Doc Green persona, but as of GAMMA FLIGHT #1-5, Skaar is once again able to transform into a Hulk. 
Amadeus Cho
From the start, Amadeus Cho idolized Bruce Banner and the Hulk. Perhaps that was one of the reasons why Amadeus became a Hulk. As revealed in TOTALLY AWESOME HULK #2, Amadeus saved Bruce's life and took on the burden of the Hulk for himself, but Amadeus didn't initially see it as a burden. He accepted it as a blessing and took pride in being a better Hulk than Banner because he had control over his emotions and personality – or so he thought.
In reality, every Hulk has to contend with their dark side; even Amadeus was not immune to that. In INCREDIBLE HULK (1968) #717, Amadeus voluntarily gave up the majority of his gamma powers, but retained enough Hulk strength to become Brawn.
Spider-Man
Years before WORLD WAR HULKS, Spider-Man became the first Marvel hero outside of Hulk's immediate friends and family to become a Hulk. After accidentally being infected with Hulk's gamma radiation in WEB OF SPIDER-MAN (1985) #69, Peter Parker became a full-fledged Spider-Hulk in issue #70. It's worth noting Spider-Hulk's persona was very similar to the Savage Hulk's personality. That appears to make Hulks like She-Hulk and Amadeus Cho even more special, since not even Spidey's brilliant intellect could control his Hulk before he was cured.
Deadpool
Speaking of WORLD WAR HULKS, many of Marvel's heroes briefly became Hulks in that crossover event. For example, Deadpool became Hulkpool, a gamma monster who was obsessed with killing Deadpool, as if he couldn't realize that he was Deadpool. In HULKED OUT HEROES #1-2, Hulkpool went on a disastrous mission back in time to kill himself, but he only managed to make a mess out of history.
Hulk
It turns out that the Hulk had his own Hulk even before Titan came along. As seen in AVENGERS & X-MEN: AXIS #4, the Hulk's Hulk is called Kluh, and he is everything that the Hulk isn't. Kluh is vicious, evil, and eager to destroy anyone in his way. It's worth noting that Kluh's physical form has some similarities to Titan, but only Titan can grow to 30 stories in height. 
Kluh was created by a spell gone wrong that reversed the moral compasses for several Marvel heroes and villains. Following the spell's end, Kluh was never seen again.
To learn more about Titan, the newest addition to the Hulk family, check out HULK #6 by Donny Cates and Ryan Ottley, on sale now!
You can grab these comics and more digitally or at your favorite local comic book shop. Be sure to ask your local shop about their current business policies to observe social distancing or other services they may offer, including holding or creating pull lists, curbside pick-ups, special deliveries, and other options to accommodate. Find and support your local comic book shop at ComicShopLocator.com or by visiting Marvel.com/LoveComicShops.
For digital comics, all purchases in the Marvel Comics app can be read on iPhone®, iPad® and select Android™ devices! Our smart-paneling feature provides an intuitive reader experience, ideal for all types of mobile device and tablet users! Download the app on iOS and Android now!
By Blair Marnell
Source Marvel