"I think in Europe, in general, there's a sense that women who age naturally can be beautiful."
PSA: Actress Gillian Anderson, 52, has freakin' gorgeous skin. You'll probably recognize her from one of her many successful television stints, whether that be her iconic role on The X-Files, or noteworthy Netflix hits like The Crown and Sex Education. She's been acting now for over three decades–and has maintained glow-y, radiant, youthful-looking skin while at it. Lucky for you, Gillian has given *answers* about her beauty routine, and it turns out the key is to keep it relatively simple, including a mix of affordable and luxury brands in her day-to-day. Curious? Great. Keep reading for the top five ways Gillian Anderson gets her ageless skin. Your complexion will thank you.
She prioritizes putting moisturizing, healing products onto her skin.
Hydration is key. "Even with all the fancy creams I've been gifted over the years, once I started seeing that my skin was suffering, I began to pay more attention to it," the actress told New Beauty in 2016. "There's a Clinique Moisture Surge Gel, which is kind of extraordinary for application in the afternoon, if you're starting to feel like you're drying up and need some hydration." This super light gel cream contains ingredients like hyaluronic acid, caffeine, and humectants to keep your face looking plump and radiant without feeling heavy on the skin.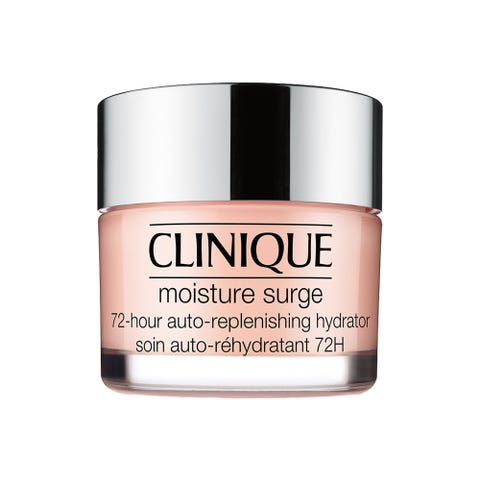 Moisture Surge 72-Hour Auto-Replenishing HydratorCLINIQUEsephora.com
$39.50
She considers tinted moisturizer another staple.
Basically, Gillian says the key to her amazing glow is courtesy of the Laura Mercier tinted moisturizer. "It's a big part of my life," the actress told Harper's Bazaar UK in 2017 when speaking of the product. "Every day I'm grateful for it." With ingredients like macadamia and kukui seed oils for hydration and solid dose of SPF 30, it's no wonder the formula makes Gillian glow. "It feels natural, moisturizing, smooth and silky and gives great coverage without making it feel like I'm wearing anything," she told New Beauty. "That's a pretty big statement for me." Plus, the pigment gives her skin a blurred, pore-free look without making her shiny or oily over time.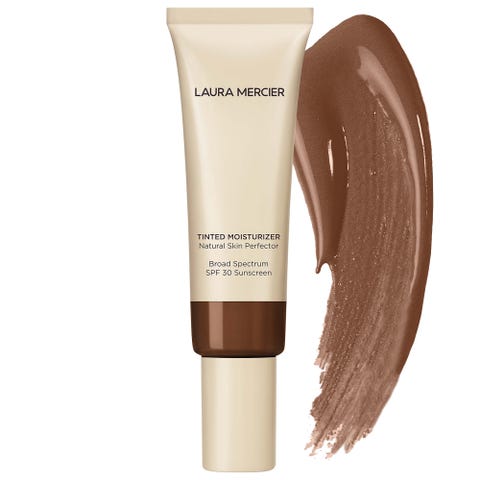 Tinted Moisturizer Natural Skin Perfector Broad Spectrum SPF 30 [variation_tag_finish:Natural]Laura Merciersephora.com
$47.00
She isn't picky about anti-aging.
Since, ICYMI, Gillian is British, she says that she views getting older different from the American industry. "I think in Europe, in general, there's a sense that women who age naturally can be beautiful, whereas I'm not so sure that's the perception in America, specifically in L.A.," she said in 2016. "I think that it's seen as a flaw, somehow—like wrinkles are a flaw." That said, her healthy perspective about getting older doesn't mean she neglects her anti-aging regimen. "I started using a mixture over the years of Clinique and Estée Lauder. It's not a huge part of my life, but I've began making an attempt to use some of the stuff that's out there. And you know, I think it works. I think my skin definitely feels better," she told New Beauty. Noted
She even takes care of her skin on set.
Since fans were so curious about her skincare situation, Gillian detailed the likes of her Sex Education on-set routine in a 2019 Instagram post. "All the products necessary to cleanse, tone, moisturize, prime, and polish [are] from Sarah Chapman's luxurious range," she wrote in the post.
The actress also gave a shoutout to the brand Bali Balm for her hydrated lips. She credits Dr. Organic for keeping her whole bod so soft and smooth, saying her favorite from the line is an "amazingly hydrating skin lotion for all-over body moisturizing." A bonus? At roughly 25 dollars total, it's kind of a bargain considering it's celeb-approved.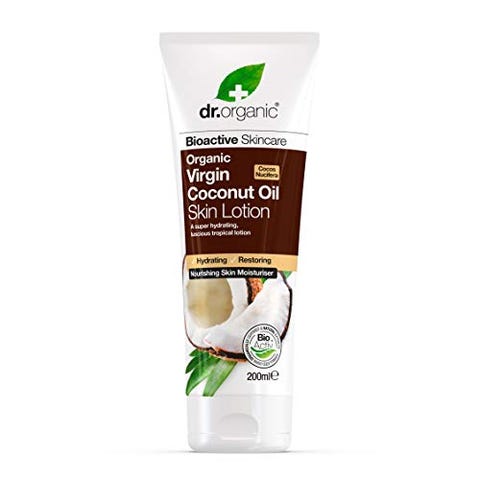 Organic Doctor Virgin Coconut Oil Skin LotionOrganic Doctoramazon.com
$23.97
She pays attention to her body and mind wellness.
Not only does the actress meditate every morning to keep her #calm, but Gillian is also a fan of squeezing in exercise (when she can!), she said in an interview with New Beauty. "I don't try that hard to stay in shape," Gillian told The Daily Mail. "I go through stages of yoga a few times a week and throw in some running." She'll hire a personal trainer if she's taking on a new role, but for the most part she works out when she feels like it. So yeah, Gillian is definitely making moves for a radiant, happy, and gorgeous self both inside and out.
This feature was originally sourced from Women's Health.