Including AirPod putty cleaners, a bracelet fastening tool, and more products that can help you out on a daily basis.
1. A bottle of Drop It that'll remove sulfates and tannins from your glass of vino in just 20 seconds, so you can sip on Chardonnay or Merlot without annoying allergy symptoms or a post wine-night headache.
Unlike disposable wine wands, a single bottle of this remover is good for up to 55 glasses of vino. It's recommended that you use 1-2 drops for a glass of white wine, 2-3 drops for a glass of red wine, and 7-9 drops for an entire bottle of wine. Just add the proper amount of drops to a glass of wine, gently swirl the wine for 20 seconds, and you're good to drink it!
Promising review: "I became really sensitive to wine in my 30s and through a lot of trial and painful error, I thought I might have to give up on wine altogether. Then I found out about the preservatives being a possible cause and decided to give this product a shot. So glad I did!! I'm still pretty sensitive to reds but this helps tremendously so that I can have a glass with dinner without a headache immediately settling in. Whites cause me no problem what so ever! I love that it takes so little product to make a difference to a whole bottle. Just a few drops, a few minutes and we are good to go." —CastawayIrons
Get it from Amazon for $14.99+ (also available in multi-packs).
2. A car mask hanger because your face masks are always lost in your vehicle, aka, ending up under a seat or crammed into the glove box compartment (sigh). Avoid this dilemma and place them on this pretty storage hub where they'll be readily accessible during your travels.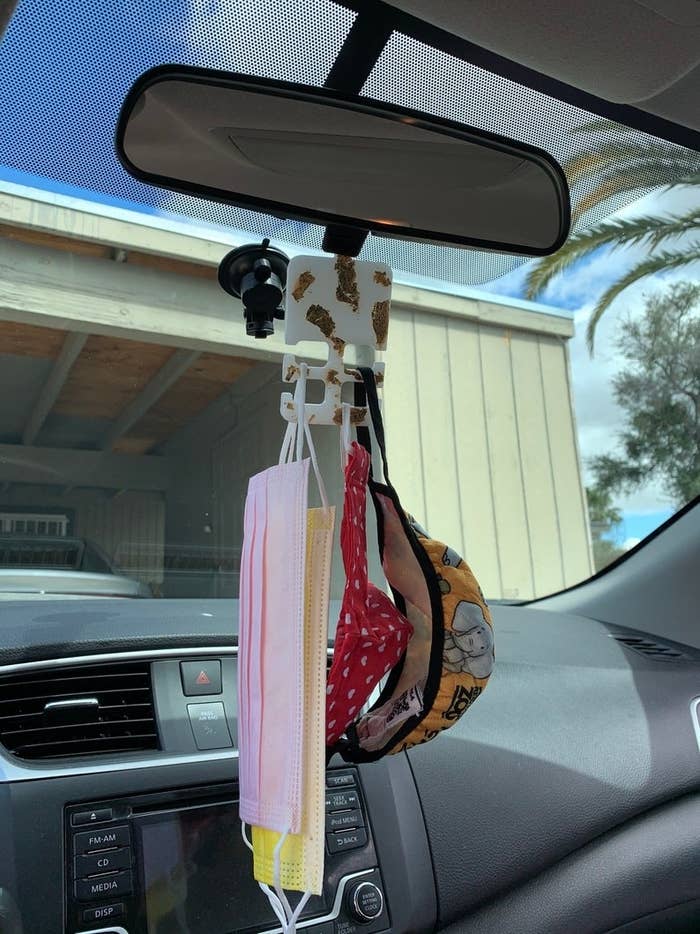 Creations By Alena P is an Arizona-based Etsy shop specializing in handmade resin accessories and home decor.
Promising review: "I'm in love with this mask hanger! Not only does it do great job holding my mask it also really good at holding hair ties, both things I lose in my Jeep a lot." —Etsy Customer
Get it from Creations By Alena P on Etsy for $5 (available in multiple colors and with or without glitter/flakes).
3. A knee stabilizer band so you won't ~kneed~ to deal with discomfort while exercising. It'll help provide support during lots of activities, including basketball, cycling, and running, and can be adjusted to fit the curve of each knee.
Be sure to check with your doctor first to address any knee concerns *before* trying a knee stabilizer band for workouts.
Promising review: "I was starting to have discomfort with my knee while running. I came across this while researching what to get and thought it was worth trying it out. Definitely am satisfied that I bought it, because the discomfort has gone away. I recommend buying this to give your knee that comfort you need while running." —E. Randall
Get a set of two from Amazon for $13.88 (available in four colors).
4. A small device that'll keep track of your doggo's meals, because life gets busy and you really don't want to ask your partner, family member, or roommate if they fed your pet for the millionth time. It also comes in handy if you're the only one watching your fur baby and need to double-check.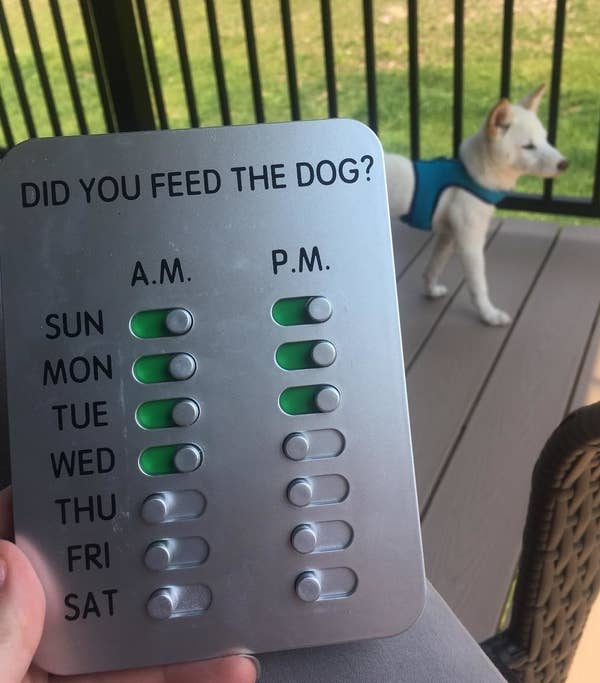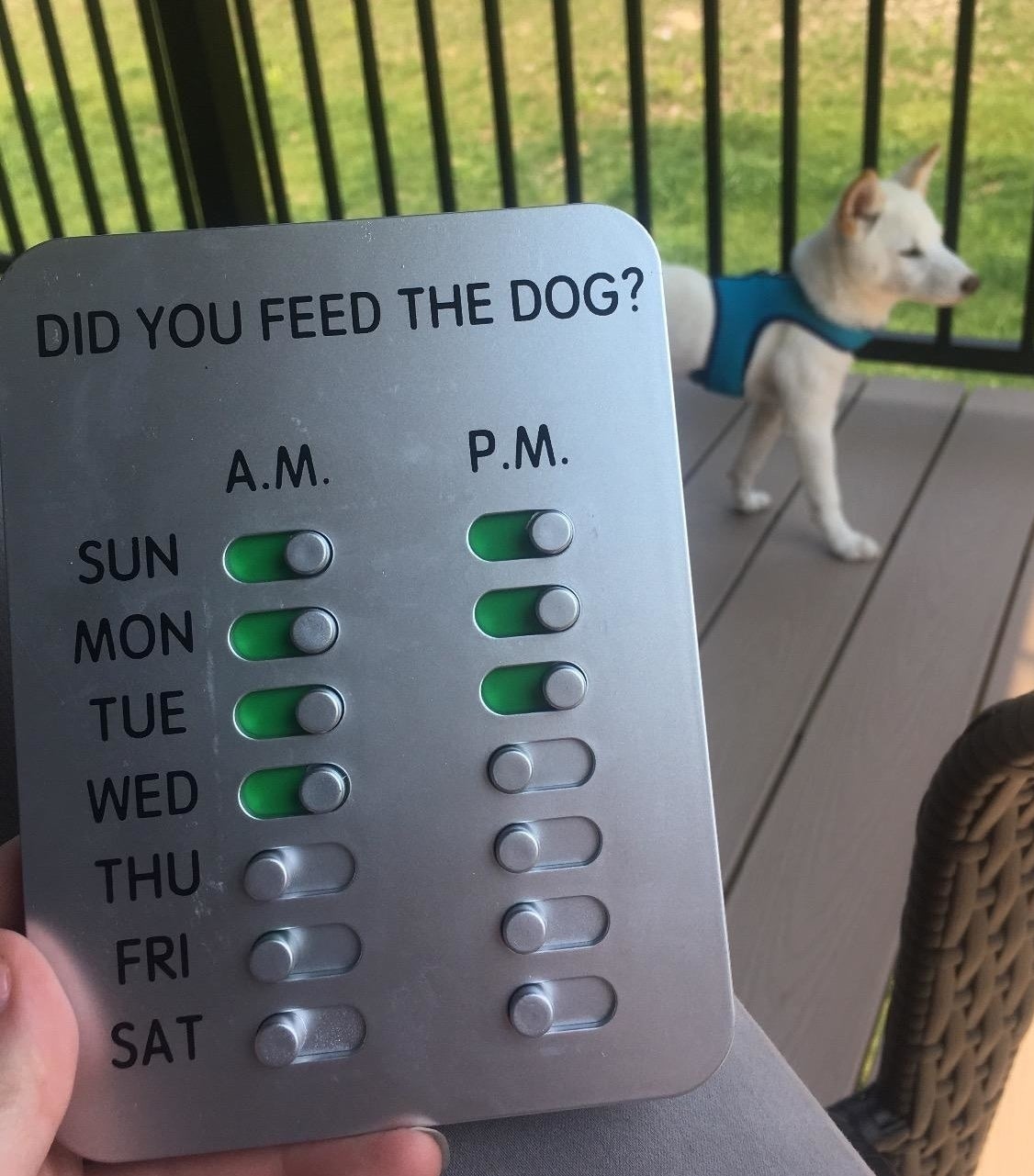 It comes with little slots you can slide for a.m. and p.m. times throughout the week, so you'll always know if you need to refill your dog's food and drink bowls.
Promising review: "Awesome product! There are four of us who were working together to feed the dogs. It simplified everything because I no longer have to text to see if anyone had fed them every morning. Now I just to see if it's green and if not, I feed them and indicate it. We all love it so much!" —Toni Deegan
Get it from Amazon for $7.99+ (available in multipacks).
5. A multitool jar opener because you need a handy kitchen gadget that doesn't just open up tough jars, but also bottles and cans. It has anti-slip rubber and four different-sized grooves for a good grip, so you're not using up all your arm strength when you need jam for toast.
Promising review: "Having had arthritis in my hands since my teens, I have used many jar/bottle openers out of necessity. The OXO ones work well, but wear out within a year because of the volume of usage. This fabulous opener has yet to find a container that it cannot easily open, even bottles of water with heavily sealed caps. I love it so much I ordered another one to have in two drawers on either end of my kitchen. This gripper does not exacerbate my carpal tunnel syndrome, either. I would give it more stars if I could." —Patrizia L. 
Get it from Amazon for $9.99 (available in eight colors).
6. A pack of AirPod putty cleaners that'll carefully remove all the gross gunk from your AirPods. Gently press a flexible square into one of your AirPod speakers, peel it off, and you'll be amazed to see all the ear wax it picks up! (Peep at the amazing results below to see just how much ear wax and debris could be lurking on your headphones…🤢)
Promising review: "I was shocked by how well these cleaned my AirPods after the first try!! Nothing else works as well! I used the AirSquares to clean inside my case as well. Will be buying again" — Amazon Customer
Get 24 from Amazon for $16.99.
7. A pair of adjustable elastic laces to turn a pair of sneakers into comfy slip-ons that'll be so easy to take on and off. Gone are the days of you stopping in the middle of a run or walk to tie flimsy shoe laces.
Promising review: "These have blown me away. After getting a new pair of boots, I was having issues with the ease of getting my feet in/out without drastically adjusting the entire boot's lace tension each time. With these, I can easily squeeze my feet in/out when needed, and I never have to adjust the tension. They're stretchy enough to both hold my feet snugly, AND have enough stretch to allow my feet out when I try to get them off. The Lock Laces make the entire boot feel more comfortable, with good support all around, without the rigidity and pressure points." —John C
Get a pair from Amazon for $8.99 (available in 13 colors).
8. A zipper puller for tops and dresses that are difficult to zip up. You may not have double-jointed elbows, but at least this small lanyard can help you when you're getting dressed in a hurry.
Promising review: "I purchased this zipper puller for a very dear friend of mine. She recently lost her husband after 62 years together. She loves to dress up and was concerned that she would not be able to wear dresses with back zippers, that was always her husband's job. She was so thrilled when I gave her this gift, she actually cried. Sometimes the smallest of gifts brings so much happiness."—reds
Get it from Amazon for $14.99.
9. A Wet & Forget shower cleaner that (gasp) you can literally leave and clean later. Instead of bending over a tub and scrubbing for eternity, all you have to do is apply to the grimy area, go do something more enjoyable, and rinse it away the next day.
Promising review: "Long story short, the tub in my kids' bathroom was atrocious, due to spotty cleaning and hard water. I bought this with a heavy dose of skepticism, even though the reviews were mighty impressive. On the back of the bottle, it says that you may need several daily applications before your tub is clean, and then you can switch to weekly application. I'm on day three, and let me say, even if this stuff worked no further, I AM BLOWN AWAY. The shower looks close to new. A couple more days, and I'll be able to switch to weekly! I won't post pictures because I'm embarrassed of how bad it looked before. But seriously, I am SO happy to have discovered this product, and I plan to keep on using it." —Tee
Get a 64-ounce bottle from Amazon for $16.89.
10. A silicone freezing tray for leftover foods (broths, sauces, and soups) that get messy in plastic containers. It'll turn them into single-serve frozen portions, so you don't have to defrost an entire batch if you want to make a meal for yourself later on.
Reviewers also like using this tray for smoothie prep, because it works great for frozen fruits and veggies too!
Promising review: "I use this for mainly smoothie prep and to preserve ingredients before they go bad (like avocados). It's now part of my leftovers process when I cook a big meal in the slow cooker. I just have to defrost smoothie stuff a little before throwing it in the blender (maybe a minute or so in the microwave). Separating ground meat to freeze is easier now, too. The water in my area is not trustworthy, so I sometimes freeze half cups of bottled water for drinks. Once the bricks are frozen solid, you can save space in the freezer by popping them out and throwing them in a freezer bag." —Mike S.
Get it from Amazon for $19.95.
Note: To see the complete 41 list of items, press here.