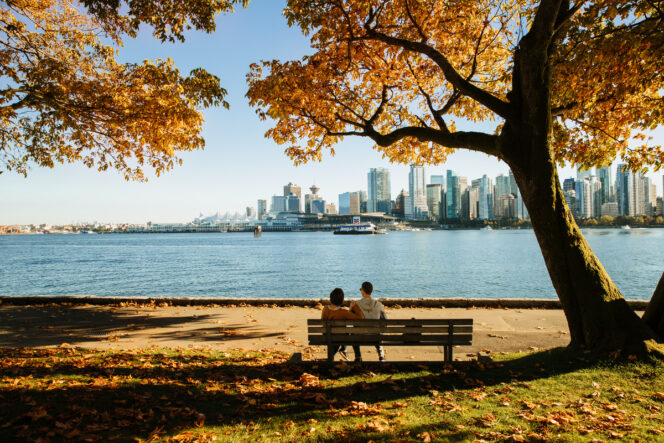 Thanksgiving is a busy travel weekend around Vancouver in any regular year, but this year as more of us venture out to feast with family and friends we haven't seen for a while, it makes this one that much more special. If you're planning on coming to the city for Thanksgiving, why not plan on an extended stay, and enjoy the best that this cool, cozy season has to offer around the city.
Exclusive offers on Vancouver hotels that began this summer have been extended into fall. Save money on discounted rooms, deals on the city's top attractions, or even get cash back in the form of gift certificates you can use to really carve out a unique West Coast weekend. You can find an offer for any budget or amenity you're looking for.
There's plenty to do in Vancouver on Thanksgiving weekend that won't put you in a turkey coma on the couch. Fin-tastic Fall Days are on now at the Vancouver Aquarium, a seasonal celebration packed with treats, fun and surprises for the whole family. Immerse yourself in the classics, and we mean it quite literally, with visits to the Da Vinci Experience and Imagine Van Gogh, where wall-to-wall projections take you inside the minds of these important artists. One of the city's biggest festivals is in full swing this weekend as well as the Vancouver International Film Festival celebrates its 40th edition with the best of new cinema from around the world.
And just because it's Thanksgiving, doesn't mean we can't get a little excited for October's other favourite holiday. Hallowe'en comes early to Vancouver, so pack your costumes and head out for some freaky fun with the whole family. HowlOver Canada is a "spirited" ride through Canadian skies with a band of spooky sidekicks. It's all tricks and treats at Hallowed Eves at Playland, or there's an eerie past to be unearthed on the Lost Souls of Gastown Walking Tour.
Check out our full list of our famous tours and attractions that are offering special offers for Thanksgiving visitors this weekend.
There are many delicious ways you can enjoy a Thanksgiving meal in Vancouver. Food establishments around the city are doing Thanksgiving in style, with a multitude of different ways to celebrate, from feasting on multi-course meals in the restaurant, to picking up a prepped meal that can easily be reheated for serving family and friends. And when you get tired of turkey, get out and explore more of what Vancouver's world-class food scene has to offer with help from our dining guides, including culinary experience packages, foodie tours and the best local food stories of all there is to taste in Vancouver's surrounding culinary communities.
There's so much to love in Vancouver this fall, we hope you can get out and enjoy a slice or two of it this weekend.
You can thank us later.
For more travel inspiration and special offers visit www.destinationvancouver.com/love.